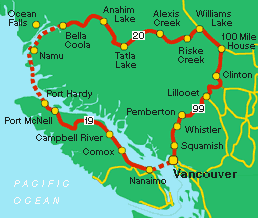 DISCOVERY COAST PASSAGE
7 to 9 days
This BC tour takes you from Vancouver Island, up the coast by BC Ferries to Bella Coola and overland through some of the more remote terrain of BC's Cariboo Chilcotin region.
To begin, take the ferry to Nanaimo from Horseshoe Bay and travel north on highway 19, Vancouver Island's main connector. Your destination is Port Hardy, Vancouver Island's northernmost ferry terminal.
Situated at the mouth of Queen Charlotte Strait, (391 km/245 miles north of Nanaimo), Port Hardy is the departure point for the Prince Rupert and Bella Coola Ferries. Plan to stay over a night in Port Hardy before boarding. Also remember to make a reservation for the ferry.
Bella Coola, nestled amongst the fjords and rivers of BC's Discovery Coast was a Hudson's Bay outpost in the 1800's and home to many of the Bella Coola Valley's indigenous peoples. Its museum provides an interesting glance at northern BC history.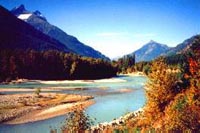 The Bella Coola River Valley
Leaving Bella Coola, follow Highway 20 east. Just east of Bella Coola is the settlement of Hagensborg (approximately 20 km/13 miles from Bella Coola), settled by Norwegian descendants in the 1890's.
Just east of Hagensborg is a stretch of highway called "The Hill", 43 km/27 miles of narrow road with steep switchbacks and hairpin turns. "The Hill", winds up into Tweedsmuir Park, with its magnificent Tsitsutl Range. The spectrum of orange, yellows, purples and reds make this collection of lava and fragmented rock a unique sight.
Upon ascending "The Hill", Hwy. 20 is dotted with many small communities offering a variety of services: Anahim Lake and nearby Nimpo Lake, Tatla Lake (235 km/197 miles from Bella Coola), and Alexis Creek, (approx. 109 km/68 miles east of Tatla Lake). Attractions in the area include fishing, camping, horseback riding, rodeos and wintertime cross country skiing.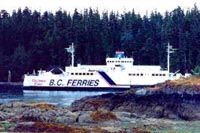 The Discovery Coast Ferry
Several provincial parks are accessible by secondary roads. 4 wheel drive is necessary for some back roads.
Williams Lake (112 km/70 miles east from Alexis Creek) is your last destination on Highway 20, as you turn south onto Highway 97. The city is rich in history, and the home of the Williams Lake Stampede, one of BC's largest rodeos, held in the week of July 1st each year. Visit the Museum of the Cariboo Chilcotin to learn about the heritage of this area.
Leaving Williams Lake, follow Highway 97 as it guides you through the famed "Gold Rush Trail", the historic route of trappers, miners and gold seekers and the breathtaking beauty of the Fraser Canyon. The town of Clinton (163 km/102 miles from Williams Lake) is known as the "Guest Ranch Capital of North America". Marble Range Provincial Park, west of Clinton, offers stunning scenery. It is also a favourite among ice climbers, many of whom flock to the area each year.
South of Clinton, and just before reaching Cache Creek, your route turns west onto Highway 99 - the road past Pavilion Lake and on to Lillooet. Marble Canyon Provincial Park offers camping on the southeast end of Pavilion Lake. Lillooet, "Mile 0" during the gold rush (104 km/65 miles from Clinton), possesses an excellent gold rush museum.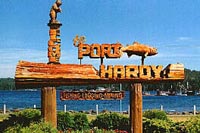 Port Hardy
Beautiful scenery and outstanding nature viewing await you as you wind through the mountains on the way to the town of Pemberton and beyond to the world famous ski resorts of Whistler. Camp in any number of BC Forest Service sites on the way and enjoy the bounty of fishing opportunities.
Whistler (32 km/20 miles from Pemberton) needs little introduction to skiers. The resort offers numerous summer activities as well, from street festivals to fine dining.
Don't forget to visit Garibaldi Provincial Park, known for its beauty and unspoiled forests, as you wind your way south of Whistler. As you travel the Sea to Sky Highway from Whistler to Squamish (60 km/37 miles from Whistler) and along the coast to West Vancouver, the scenery is a treat you will not want to miss capturing on film. There are a number of roadside stops on the west side of the road, but be mindful of the traffic.
From West Vancouver take the Lions Gate Bridge to return to Vancouver.
Be sure to browse the Points of Interest:
Read a Travelog:
Check BC Ferries Information