Vancouver by Day
18 Great Places to Visit
---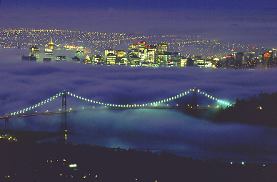 Lions Gate Bridge at night.
Photo Courtesy of Tourism BC
Describing Vancouver is no easy feat for a writer, least of all for someone who loves West Coast diversity and considers a trip to the city to be nothing short of exotic. Vancouver, with its majestic skyline of snow-tipped mountains and incredible sunsets, would impress the most seasoned traveller. It is also the place to go to find great nightlife, romantic dining, or just a little bit of West Coast Canadian culture.
Those of us who have the opportunity to visit Vancouver whenever we wish, have our own personalized list of top places to visit. For me, it always starts with a little sushi - a favourite in almost any area of the city. Vancouver is famous for its outstanding restaurants, which range from Westcoast First Nation to any number of other different culinary traditions. Chinatown, with its dim sum specials, is one of the largest and oldest Chinese communities on the West Coast. Commercial Street offers a mixture of Latin American and Italian cuisine and is a favourite of locals and visitors alike.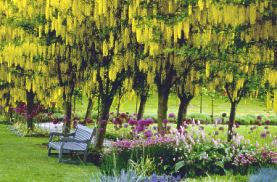 Van Dusen Botanical Gardens.
Photo Courtesy of Tourism BC
But food isn't everything in Vancouver (as much as I like to think it is sometimes). The unusual history of this area has produced a wide selection of museums and historical sites. It also has more parks than you could visit in a week. Stanley Park offers some of best vistas in town and is just minutes from downtown. Burnaby Mountain Park, on the east side of the Greater Vancouver Area, provides a spectacular view of Vancouver and the surrounding communities.
There is a variety of transportation modes available to the Vancouver visitor. Landsea Tours offers bus tours of many of Vancouver's favourite haunts, including trendy English Bay, Stanley Park and Granville Island. Gray Line has a number of local bus tours that are popular. There is also a trolley system called Vancouver Trolley Company, that stops at many of Vancouver's attractions. Or you can join a walking tour starting from any number of points in town.
The public transit system (which includes the bus, sky train and sea bus) is quite good, but often crowded. Specific transit information is available by calling 1-604-521-0400.
For extra help with directions and maps, contact Tourism Vancouver at 1-604-683-2000. Tourism BC (1-800-435-5622) can assist with accommodations as well. The following is a list of some of the highlights in the Greater Vancouver area. You can pick or choose, or schedule a guided tour through a licensed company.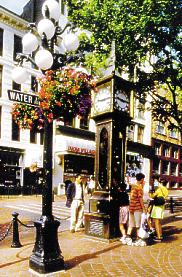 Gastown's Steam Clock.
Photo Courtesy of Tourism BC
The Ancient and the Artistic
Museums and the Like:

The Museum of Anthropology:
6393 NW Marine Drive
University of British Columbia
1-604-822-5087
The museum is a mandatory visit for anyone interested in West Coast Canadian history and Aboriginal art. Parking is available at the museum, or you can bus it.

The Vancouver Art Gallery:
750 Hornby
1-604-662-4719
Housed in the old city courthouse, this museum features displays and travelling exhibits of a wide range of Canadian and international artists. Easy walking distance from Granville and Georgia.

Science World:
1455 Quebec St.
1-604-268-6363
An interactive museum for kids young and grown. You can't miss its location - just look for the shiny geodesic dome on the north shores of False Creek.

Vancouver Aquarium:
Stanley Park
1-604-268-9900
There's more to see and do than look at exotic fish. There is a sleepover program for little ones (oh, to be a kid again) and a Japanese fish painting exhibit.

Pacific Space Centre:
1-604 738-7827

Maritime Museum:
1-604-257-8300

Vancouver Museum:
1-604-736-4431
A planetarium, maritime exhibits and Vancouver history, all at one location, overlooking beautiful English Bay.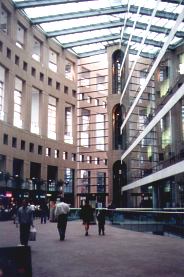 Vancouver Public Library.
Photo Courtesy of Jan Lee
Unusual Landmarks

The Vancouver Public Library:
350 W. Georgia
1-604-331-3600
An incredible achievement in architecture. Centrally located downtown.

Gastown:
Water Street area
Gastown is best typified by "Gassy Jack", a 14-foot high copper statue that stands sentry to the cobblestone intersection of Alexander and Powell. Gastown is where Vancouver originally began. Features great food, great pubs and a unique atmosphere.

Granville Island:
Under the south end of the Granville Street Bridge
A sign at Fir and Broadway will direct you north to the waterfront public market. Theatre, restaurants and artist studios are some of the specialties here. Very popular on weekends.

Capilano Suspension Bridge:
3735 Capilano Road
North Vancouver
1-604-985-7474
One of Vancouver's most popular fixtures in a beautiful setting. Take a moment to watch Aboriginal carvers at work.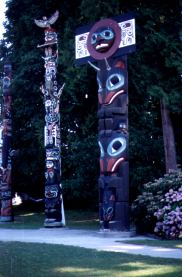 Totems at Stanley Park.
Photo Courtesy of Jan Lee
A Little Bit of Heaven
Vancouver Parks and Scenic Sites:


Stanley Park:
West end of downtown Vancouver
405 hectares (1,000 acres) of beaches, trails and forest - one of Vancouver's true historic landmarks.

Queen Elizabeth Park:
33rd Ave. and Cambie
1-604-257-8570
The highest spot in Vancouver (500 feet/150 metres), it is home to the Bloedel Floral Conservatory.

Dr. Sun Yat-Sen Chinese Garden:
578 Carrall Street
1-604-662-3207
Patterned after a garden of a Ming Dynasty scholar. Admission for BC seniors is free every third Wednesday of the month.

Burnaby Mountain Park:
Centennial Way
Burnaby Mountain, Burnaby
(no phone)
Ok, so this is a bit of a jaunt from central Vancouver. But for panoramic views, this park can't be beat. On a clear day you can see the Gulf Islands.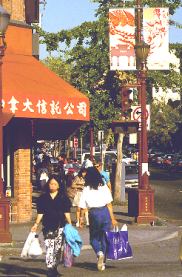 Vancouver's historic Chinatown.
Photo Courtesy of Tourism BC
Fantastic Festivals:

Vancouver's specialty, to be sure. There are ethnic festivals, maritime festivals, fireworks displays and all-out-no-holds-bar summer parties that have put Vancouver on the map. Check with Tourism Vancouver for the current date for the festival of your choice.

Bard on the Beach Shakespeare Festival:
usually July-September
Vanier Park
1-604-739-0559
Dinner with the Bard - what could be finer?

Vancouver Folk Music Festival:
July
Jericho Beach Park
1-604-602-9798
A cornucopia of funky and traditional music from around the world on one of Vancouver's most popular beaches.

The International Writers (and Readers) Festival:
October
Granville Island, various venues
1-604-681-6330
Enjoy readings by some of the best up and coming writers each year.
Next month - Join us for a day tour of Vancouver's famous Stanley Park.
© Copyright Jan Lee
---
Jan Lee jnlee@sfu.ca


Be sure to read other articles by Jan Lee in the BC Adventure Network