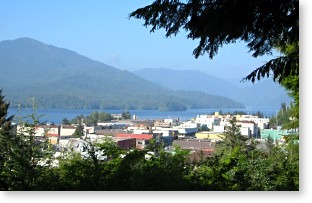 Where the Yellowhead Highway 16 meets the Pacific, you'll find Prince Rupert, and en route you will drive along one of the most scenic stretches of highway in the world. Named after the first governor of the Hudson's Bay Company, the city of Prince Rupert was elected to be the western terminus of the Grand Trunk Pacific Railway.
The city is now more than a railway terminus, it is heavily supported by the commercial fishery and seafood processing industries, as well as by a pulp mill. As home to Canada's deepest ice-free harbor, Prince Rupert is also a major shipping port.
Tourism is becoming increasingly important to the area as more and more people are coming to fish and cruise the scenic West Coast.
Prince Rupert acts as a base for those wanting to take advantages of the adventures waiting just off the coast or on the mainland; whalewatching, sea kayaking or fishing, hunting, hiking and backcountry expeditions are all close at hand. The spectacular scenery in the area constantly changes from ocean waterfalls to river rapids or rainforest and mountain peaks.
Whether you want to watch whales on the ocean or glimpse a grizzly in the new Grizzly Sanctuary (45 km northeast of Prince Rupert), this area with its amazing variety of activities and scenery can provide the outdoor enthusiast with endless possibilities.
Accommodation/Adventure Providers
| | |
| --- | --- |
| | Haa-nee-naa Lodge: From a cove on the northern Dundas Island, overlooking the Alaska Panhandle, we have one of BC's most northerly saltwater salmon fishing lodges. Enjoy un-crowded fishing experiences, along with breathtaking scenery and wildlife. more |


If you would like to have your business listed, please Click Here.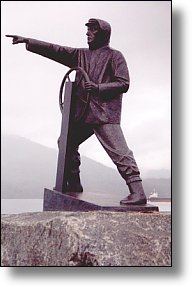 Population: 16,620
Climate: Summer Average: 15.5 C • Winter Average: -2.2 C
Precipitation: 236.9 cm/yr
Main Industries: fishing, pulp and paper, grain and lumber exports, regional service centre, tourism, forestry
Access: Travel connections through Prince Rupert are easy and diverse. It is a hub for ferry, rail and air traffic as well as being the western end of the Yellowhead Highway 16. There are regular ferry sailing from Prince Rupert to Alaska, the Queen Charlotte Islands and Vancouver Island. Numerous charter boats are eager to provide transportation to smaller communities or to take you on a sea adventure. Rail connections to this western terminus for VIA Rail, can be made from points south and north, bringing you through magnificent, world renowned scenery . As well as daily jet service from Vancouver, there are charter planes available to take visitors to floating lodges and backcountry destinations
---
Accommodations: As well as two private RV equipped campsites (Parkside and Kinnickinick), there are two provincial parks in the vicinity - Diana Lake and Prudhomme lake. There is also a wide variety of hotels, motels and lodges to choose from. Fishing lodges and backcounty resorts are also close at hand and accessible through a variety of methods.
Recreation Facilities & Activities: golf course, racquet courts, Performing Arts Centre, aquatic centre, ice arena, fitness centres, bowling alley, theatres, deep sea and freshwater fishing, "flightseeing", helirafting, hiking, biking, kayaking, wildlife viewing.
Local Attractions: Archaeological, aboriginal, city, and harbour tours. Oldfield Creek Hatchery, Heritage Walking tours, native arts, North Pacific Cannery Museum, Kwinitsa Railway Museum, the Museum of Northern BC and Carving Shed, Firehall Museum, Pacific Mariners Memorial Park, Sunken Gardens, totem poles, Oliver Lake Dwarf Forest (natural bonsai trees), Rainbow and Taylor lakes, Khutzeymateen/K'tzim-a-diin Grizzly Sanctuary (45 km northeast of Prince Rupert).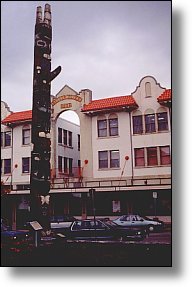 ---
For Visitor Information:

Prince Rupert Visitor Centre
200-215 Cow Bay Rd.
Prince Rupert BC V8J1A2
Phone; 250 624 5637
Toll free; 1800 667 1994
Email; info@visitprincerupert.com
Website; visitprincerupert.com