Resorts & Campsites: There is a Forest Service Recreation Site at Little Anahim Lake that provides a rest stop on Highway 20 for canoeing, picnicing and waterfowl observation. Accommodations, services, camping and facilities are provided by resorts along Anahim Lake as well as the Village of Anahim Lake. Anahim Lake also has the valuable asset of a 975 metre (3198 ft.) paved airstrip.
BC Adventure Network members serving this area:
| | |
| --- | --- |
| | Anahim Lake Resort: We offer rustic simplicity, down-home service & excellent fly-in and guided fishing. Relax in a cozy cabin or RV and lakeshore campsites. There's boat and motor rentals, trail riding, flight seeing, hiking, & even winding surfing -- or just relax and watch t... more |
| | |
| --- | --- |
| | Eagle's Nest Resort: Beauty and comfort in the wilderness. Elegant suites or cozy log cabins. Lakeside dining room, breathtaking views, hiking and birdwatching, and the natural splendor of the area. more |
| | |
| --- | --- |
| | Escott Bay Resort: The adventure starts with fishing, hiking, horseback trail riding, pack trips and hunting – and with the snow comes x-country skiing & snowmobiling. Located between Tweedsmuir and Itcha Ilgachuz Parks, we offer fully serviced cabins and camping facilities. more |

If you would like to have your business listed, please Click Here.

Fishing Report: Anahim Lake reports an average of 14 to 16 inch wild stock rainbow trout reaching up to three pounds. Although spin fishing and trolling are effective, this lake is particularly popular for fly fishing. Fly fishing is very productive in early summer and fall but it is good throughout the season. Where the water flows in from Little Anahim provides the best fly fishing on the lake. A unique fly fishing experience comes when one drifts the river from Anahim to Abuntlet Lake.
Be sure to visit Fishbc.com for angling information!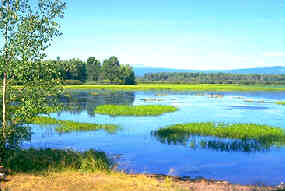 Viewscape: The view from this popular resort lake is of foothill country covered with a coniferous forest of pine and spruce. This shallow lake is a popular viewing spot for wildfowl.
Shoreline: The gravelly shoreline is interspersed with grass, poplar, alder with rushes covering about 80% of the shore.
Nearby Lakes
See Abuntlet Lake
Note: Always check your current BC Fishing regulations before you start fishing a new lake.