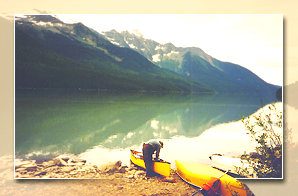 The people, who live in British Columbia, are truly fortunate, with spectacular scenery and rivers, lakes and streams that offer some of the finest kayaking and canoeing in the world.
Canoe and kayak vacations in BC are unforgettable. The different mountain ranges act as backdrops painting a canvas of blues and purples, the forests are a melting pot of greens and the lakes are hues of azure and deep navy blues.
For sea kayaking, the BC coastline with the Pacific Ocean at its door step forms long, deep fjords and inlets that are teeming with fish and the lands are abundant with wildlife.
The different topography and elements of this land are amazing and unmatched. One of the more interesting ways to enjoy the beauty and wilderness that comprise British Columbia is to canoe and kayak the lakes, rivers and the inlets throughout the province.
Learn More: