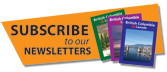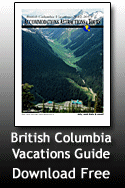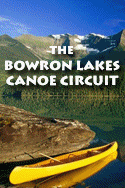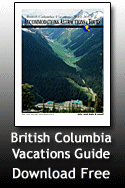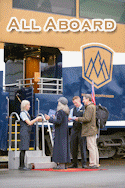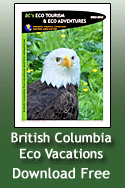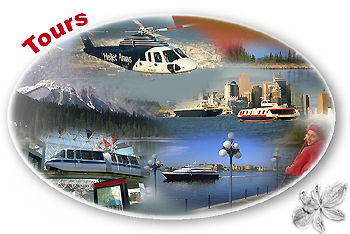 Directory of BC Guided Tours . . . (more info)
Guided Tours in British Columbia.
Guided tours in British Columbia offer different modes of transportation; tour Canada's Western province by bus, train, boat, plane or helicopter. Licensed tour operators cover every region of the province, offering interesting tours that take in urban and rural man-made and natural attractions. Enjoy a specialized guided tour of Vancouver, Victoria, Whistler and other exciting centres. See the Canadian Rockies; in safety and comfort by luxury coach, tour bus or from your reserved seat on a comfortable passenger rail car. Book a plane or helicopter ride for a scenic view of BC's Coastal Mountain Range and all their splendour. Go on a guided whale watching tour or wildlife viewing wilderness expedition. Or, boat the many inlets, sounds and fjords along the rugged and majestic coastline. Savour a harbour tour, cruise the Inside Passage, explore aborginal and historical sites, ride a double decker bus or enjoy a horse-drawn carriage ride.
The diversity of British Columbia is exciting, enjoy it all with a guided tour. There are winery tours in the spectacular Okanagan Valley with sampling of world class wines. Learn about BC's forest industry, with a specialized forest tour. Take a customized river trip by paddle boat, power boat, raft or drift boat, or enjoy a lake cruise. BC's experienced and licensed tour operators will take you to the mountaintops, valley floors, city streets, or glide you over ocean surfaces. Your guided tour choice is limitless.

| | |
| --- | --- |
| | Fresh Adventures Ski Vacations: Ski vacations and guided tours in BC and Alberta. Experience legendary ski resorts, epic terrain, powder and vibrant ski culture. Enjoy multiple mountains in your Western Canada ski vacation. more |
| | |
| --- | --- |
| | Fresh Adventures Wilderness Tours: Guided wilderness tours in BC and Alberta. Experience the highlights of Vancouver Island and the Canadian Rocky Mountains in a small group with a professional guide. more |
| | |
| --- | --- |
| | Glacier Raft Company: For 35 years Glacier Raft Company has been providing white water rafting trips on the Kicking Horse, and other beautiful rivers around Golden B.C. TripAdvisors #1 Attraction in Golden! We love the water and the thrill it provides and we want to share it with y... more |
| | |
| --- | --- |
| | Rocky Mountain Holidays: Rail Vacations in the Rocky Mountains & Western Canada! Rocky Mountain Holidays customize vacations that combine the romance of train travel with the magnificent scenery of Western Canada. more |
| | |
| --- | --- |
| | Chilcotin Holidays Ltd: Wilderness guest ranch and backcountry adventures in BC's true wilderness. Enjoy horseback riding, guided multi-day hiking trip or wilderness trekking, wildlife viewing, fishing and more. more |
| | |
| --- | --- |
| | Pathways Canada Tour Company: Experience Bowron Lakes Canoe Circuit, a uniquely Canadian wilderness adventure, with the original and most experienced Bowron Lakes Canoe Guides. 9 lakes, each with a distinct personality, linked by 100kms of lazy rivers, towering peaks, rapids and cascading ... more |
| | |
| --- | --- |
| | Rocky Mountain Holidays: Rail Vacations in the Rocky Mountains & Western Canada! Rocky Mountain Holidays customize vacations that combine the romance of train travel with the magnificent scenery of Western Canada. more |
| | |
| --- | --- |
| | Rocky Mountain Holidays: Rail Vacations in the Rocky Mountains & Western Canada! Rocky Mountain Holidays customize vacations that combine the romance of train travel with the magnificent scenery of Western Canada. more |
| | |
| --- | --- |
| | Fresh Adventures Ski Vacations: Ski vacations and guided tours in BC and Alberta. Experience legendary ski resorts, epic terrain, powder and vibrant ski culture. Enjoy multiple mountains in your Western Canada ski vacation. more |
| | |
| --- | --- |
| | Rocky Mountain Holidays: Rail Vacations in the Rocky Mountains & Western Canada! Rocky Mountain Holidays customize vacations that combine the romance of train travel with the magnificent scenery of Western Canada. more |
| | |
| --- | --- |
| | Eagle Wing Whale Watching: Guided Whale Watching Tours & Wildlife Viewing.Trip Advisor's top-rated whale-watching experience in Victoria since 2007. Killer whales, Grey, Minke and Humpback whales, seals, sea lions & porpoise. As industry leaders, they go the extra mile (or 50!) to give... more |
| | |
| --- | --- |
| | Fresh Adventures Wilderness Tours: Guided wilderness tours in BC and Alberta. Experience the highlights of Vancouver Island and the Canadian Rocky Mountains in a small group with a professional guide. more |
| | |
| --- | --- |
| | Rocky Mountain Holidays: Rail Vacations in the Rocky Mountains & Western Canada! Rocky Mountain Holidays customize vacations that combine the romance of train travel with the magnificent scenery of Western Canada. more |
Vancouver, Coast & Mountains
| | |
| --- | --- |
| | Chilcotin Holidays Ltd: Wilderness guest ranch and backcountry adventures in BC's true wilderness. Enjoy horseback riding, guided multi-day hiking trip or wilderness trekking, wildlife viewing, fishing and more. more |
| | |
| --- | --- |
| | Fresh Adventures Ski Vacations: Ski vacations and guided tours in BC and Alberta. Experience legendary ski resorts, epic terrain, powder and vibrant ski culture. Enjoy multiple mountains in your Western Canada ski vacation. more |
| | |
| --- | --- |
| | Rocky Mountain Holidays: Rail Vacations in the Rocky Mountains & Western Canada! Rocky Mountain Holidays customize vacations that combine the romance of train travel with the magnificent scenery of Western Canada. more |

Follow Us On Facebook
List of BC Adventure
Advertisers
Site Info
Advertise With Us
Awards
About Us
Contact Us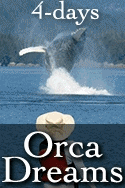 Whale Watching Holidays
---
Free Vacation Guides
BC Vacation Guides
Coastal Vacations
Thompson Okanagan
EcoTourism
Fishing Vacations
Guest Ranch Guide
Romantic Getaways
Wilderness Vacations
Winter Vacations
The Rockies Guide
Login