NORTH WEST BC TOUR
8 - 9 days
This tour takes you to Prince Rupert and the Queen Charlotte Islands, just south of Alaska. Although it is by no means a complete tour of Northern BC, it includes some of the region's most talked about coastal scenery and most impressive historical and archeological sites.
Your ferry departs from Port Hardy, Vancouver Island's most northern ferry terminal (391/245 miles north of Nanaimo on Highway 19). You will want to plan to stay over in Port Hardy to allow for boarding time for the next ferry.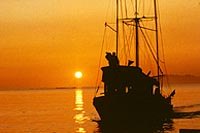 Off the shores or Prince Rupert.
Photo Courtesy of Northern BC Tourism
Bring a camera for hours of spectacular views while sailing past inlets, waterfalls and rain forests of the Inside Passage. The ferry will stop at several locations and the trip takes approximately 2 days.
Arriving in Prince Rupert, dine at one of the city's superb seafood restaurants and take some time to discover its many attractions. The Queen Charlotte Islands are just a ferry ride away, and offer an unlimited source of activities and accommodations. Camp in Naikoon Provincial Park (at the northeast end of Graham Island), or take a guided tour of the area (contact the Queen Charlotte City Chamber of Commerce for information).
Heading east from Prince Rupert, the Yellowhead Highway (BC Highway 16) takes you through many friendly communities. The totems at the Hazeltons (287km/179 miles) are a definite must-see. Enroute, the landscape changes dramatically travelling by rivers, lakes, mountain rages and lush valleys.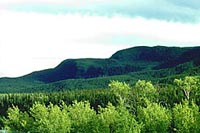 Nechako
Houston (132 km/83 miles) is known throughout Canada for its steelhead fishing. There are also several British Columbia Forest recreation sites close to Houston, as well as the Morice Mountain Ski Trails, which are open to hikers during the summer.
Vanderhoof (219 km/137 miles from Houston) is surrounded by hiking trails. Fort St. James sits at the southern end of Stuart Lake, 54 km/34 miles north on Highway 27, next to two provincial campgrounds. Paarens Beach Park offers fishing and is on the provincial campground reservation service.
At Prince George (98 km/61 miles east of Vanderhoof), head south on Highway 97 to return to Vancouver. Highway 97 will take you to Cache Creek, where you have a number of routes to choose from.
OPTION I: The Lillooet-Sea-to Sky Highway
Take Highway 99 south at the junction with Highway 97 (11 km/7 miles north of Cache Creek). Follow the road as it traces the Cayoosh River and escorts you through lush valleys and mountain ranges. Stop at Whistler for a gourmet meal, or stay over in one of its highly rated hotels or bed and breakfast homes.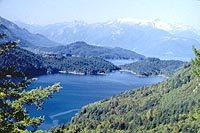 Fraser River
Return to Vancouver, taking time to capture a few pictures of the coastal waters and the Gulf Islands beyond.
OPTION II: The Fraser Canyon Route
Take Highway 1 south from Cache Creek. Stop at the Ashcroft Manor
(5 minutes away) for lunch. Your journey south takes you through the arid, high desert country of the north Thompson and Fraser Canyons and BC's historic gold trail, into the lushly forested terrain of the Vancouver Coast and Mountain region. Lytton is Canada's river rafting capital, and offers several campgrounds with scenic lookouts that are accessible to RVs. Stop in Hope (approximately 192 km/120 miles from Cache Creek) for a self-guided tour of this town's impressive chain saw statues. This route is the quicker of the two, but you will find plenty to investigate and explore as you wind your way through the farming belt of the Fraser Valley.
Be sure to browse the Points of Interest:
Read a Travelog:
Check BC Ferries Information