Vancouver & Southwestern B.C.
Introduction | The City of Vancouver | The North Shore
Burnaby and New Westminster | Surrey and Richmond
Coquitlam, Port Coquitlam and Port Moody | Delta, Langley and Fort Langley The Sea to Sky Highway | The Sunshine Coast | Vancouver to Hope via Hwy 7 Vancouver to Hope via Hwy 1 | Hope, Princeton and the Couqihalla
Trans Canada Highway - Canyon Route | Regional Travel Info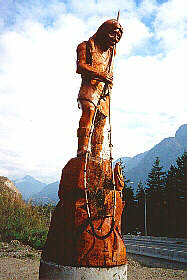 This freeway is the most commonly used route from Vancouver to Hope. Winding through the Fraser Valley, it provides access to Langley, Aldergrove, Clearbrook, Abbotsford, Chilliwack and other communities located on the south bank of the Fraser River.
Abbotsford:
The districts of Abbotsford and Matsqui provide a centre for fruit, livestock and dairy farmers of the Fraser Valley and it's population of over 180,000. Abbotsford is 74 km (45miles) east of Vancouver on Highway 1.
From Abbotsford continue east to Vedder Road. Take the south exit to Cultus Lake Provincial Park or the north exit to Chilliwack.
Chilliwack:
Situated in the Upper Fraser Valley, Chilliwack is 103 km (64 miles) east of Vancouver. This farm and dairy region offers excellent fishing opportunities in the nearby lakes.
Canadian Military Engineering Museum:
Featuring exhibits of Canada's military engineers dating from 1608, this museum is located at Vedder Crossing.

13km (8miles) from Highway 1, via Vedder Road, is one of the most popular parks in Southwestern B.C. Cultus Lake Provincial Park offers excellent picnicking, camping, swimming, fishing and hiking opportunities.
Traveling east along Highway 1 you may wish to take a side trip to Minter Gardens or take Highway 9 across the Fraser River to Agassiz and Harrison Hot Springs (the north bank, Highway 7).
Minter Gardens:
Minter Gardens provides the visitor with eleven gardens, including a rose garden, a fern garden and a Chinese garden. It is located north off of Highway 1 at 52892 Bunker Road.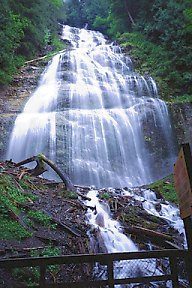 Bridal Falls:
Located 16 km (10 miles) east of Chilliwack, Bridal Falls provides attractions such as the theme park, Dinotown,water slides, bumper boats, a golf and country club and a large campsite. These 6th highest falls in the country stream into Bridal Creek and the Fraser River through the Cheam Lake regional Nature Park. You will see Mount Cheam (2107m or 6910 feet) above Highway .

You may also wish to visit the Skagit Valley Provincial Recreation Area. To reach this part of the province, take Hope Business Route, exit south to connect with Flood Hope Road (old Highway 1) or go further east and exit at Silverhope Creek.

Hope:
During 1848-49, this was a Hudson Bay Company fort so that this was an all-British route was established between Fort Kamloops, on the Thompson River and Fort Langley on the Fraser River. Hope is located at the junction of Highway 3 (the Crowsnest Highway) and Highway 1, (entrance to the Fraser Canyon), in a beautiful valley surrounded by impressive mountains.

Christ Church: This Anglican Church is one of B.C.'s oldest (1859) and is located in downtown Hope.

Kawkawa Lake Provincial Park:
This park is located 5 km (3 miles) past Hope via the Kawkawa Lake Road.

Coquihalla Canyon Provincial Recreation Area and Othello-Quintette Tunnels:
Follow this well marked route to the remains of the Kettle Valley Railway, four tunnels and two bridges in this canyon gorge. This railway line was constructed to link the coast with the Kootenays.

The following BC Adventure members would like to serve you:

| | |
| --- | --- |
| | BC Sport Fishing Group: The Fraser Valley, rich with rivers and surrounded by the Coast Mountains offers an incredible backdrop to unique and amazing world-class Salmon fishing and Sturgeon fishing. We offer a great fishing experience while maintaining a sustainable fishery. more |
| | |
| --- | --- |
| | Coastal Springs Float Lodge: A full service salmon fishing lodge in the protected waters of Knight Inlet and Blackfish Sound. We focus on large Chinook Salmon (King or Tyee) and cater to smaller groups offering a premier guided BC salmon fishing and wilderness experience. more |
| | |
| --- | --- |
| | Fresh Adventures Ski Vacations: Ski vacations and guided tours in BC and Alberta. Experience legendary ski resorts, epic terrain, powder and vibrant ski culture. Enjoy multiple mountains in your Western Canada ski vacation. more |
| | |
| --- | --- |
| | Great River Fishing Adventures: Imagine your line screaming off the reel - the heart pounding excitement as a world-class freshwater fish launches from the water. See & catch more salmon than you have ever dreamed of & even the purist fly anglers will be obsessed with the sturgeon fishing. more |
| | |
| --- | --- |
| | Rocky Mountain Holidays: Rail Vacations in the Rocky Mountains & Western Canada! Rocky Mountain Holidays customize vacations that combine the romance of train travel with the magnificent scenery of Western Canada. more |
| | |
| --- | --- |
| | Sewell's Marina: Our ocean playground provides you Sea Safaris, boat rentals, guided fishing, & premiere moorage / marine facilities. Minutes from downtown Vancouver, the best boating, fishing, sailing, marine parks, quiet bays, and island retreats are minutes away. more |