Northern BC - Northwest & Hwy #16
Introduction | Tete Jaune Cache to Prince George
Prince George to Burns Lake
The Lakes District | Houston to Smithers
Smithers to Kispiox | Kitimat & Terrace
Terrace to Prince Rupert | Haida Gwaii (Queen Charlotte Islands)
The Stewart Cassiar Highway
North to Alaska | Regional Travel Info
Stewart Cassiar Highway
Northern British Columbia, Canada.
(photos courtesy of Dave Prentice)
Stewart Cassiar Highway (Hwy 37)
This is a beautiful journey through Northern British Columbia's canyons and past mountains where the Skeena River, "the river of the mists", makes its way to the Pacific Ocean.
Highway 37 starts in Kitimat, BC and joins the Yellowhead Hwy (Highway 16) with the Alaska Hwy, west of Watson Lake. The Junction of Hwy 16 and Hwy 37 is at Kitwanga which is 90km (55miles) northeast of Terrace and 35km (22miles) west of Hazelton. Shortly after Highway 37 crosses the Skeena River it becomes the Stewart Cassiar Highway. Note that there are few communities and services available along this route.
Gitwangak:
Near the junction of Highways 16 and 37 is the village of Gitwangak. Totem poles dating from 1875 are found here.


Kitwanga:
This pleasant logging village with its spectacular view of the Seven Sisters Mountains is located 4 km (2.5 miles) past the junction of Highways 16 and 37. Basic services are available here.
Kitwangas National Historic Site:
Nearly 200 years ago a warrior named Nekt used this hill as a stronghold to control fishing and trade routes. It is located on Battle Hill.
Gitanyow:
Home of the world's largest standing totem pole, this village formerly known as Kitwancool is located west of Highway 37, 14 km (10 miles) north of Kitwanga.
To reach Terrace, continue north on Highway 37 for 75 km (46 miles) to the Nass River Forest Service Road.


Nass River Bridge:
The bridge, which completed Highway 37 in 1972, is located 140 km (86 miles) north of the Yellowhead Highway.
Meziadin Lake Provincial Park:
Located 12 km (7 miles) past the Nass River Bridge, this park provides good canoeing and wildlife viewing oppurtunities.
Meziadin Junction:
This major junction is found just beyond the park. Continue 62 km (38 miles) to Stewart and Hyder, 160 km (100 miles) to the Yellowhead Highway #16 or 570 km (353 miles) north to the Alaska Highway.
To Stewart, BC and Hyde, Alaska (Hwy 37A):
This scenic route to Stewart, BC, and Hyder, Alaska, winds between canyons of rock and ice, past rivers and evergreen forests.
You may see mountain sheep, grizzly and black bears as you make your way over the Bear Pass and past the stunning Bear Glacier and River.
Strohn Lake and Bear Glacier: This dense glacier with its magical blue glow has created the clear Strohn Lake.

---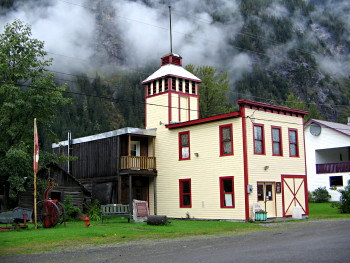 Stewart, BC:
Stewart is the most northerly Canadian ice-free port. Located on the BC Alaska border at the head of Portland Canal, it provides tourists with stunning views and full facilities. Visit the Museum (1910) with its natural history, logging and mining exhibits.
Salmon Glacier:
Visitors may view this majestic glacier via a 90 km (56 miles) gravel road which travels from Stewart British Columbia into the USA and back into Canada.
---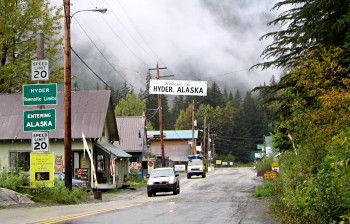 Hyder, Alaska, USA:
3 km (2 miles) from Stewart is the border between the USA and Canada. The US/Canada border is marked by a stone storehouse constructed in 1896.
Although there is no US Customs office, there a Canadian Customs office at the border where it is mandatory to stop and report. Valid Identification is required to enter Canada.
---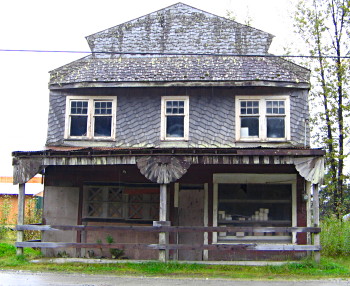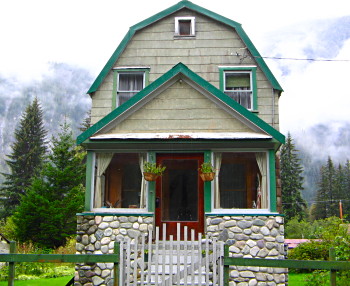 Fish Creek:
In late July and early August bald eagles and black bear feed on the abundant spawning chum salmon here. Fish Creek is located just beyond Hyder.

Meziadin Junction to Alaska/Hwy 37:
Continue north to Alaska via the Meziadin Junction on Highway 37 and enjoy this powerful wilderness with the Coast Mountains to the west and the Skeena Mountains to the east. Rest areas, parks and good fishing spots are found along the way.

Kinaskan Lake Provincial Park:
Located 90 km (56 miles) north of the Ningunsaw Summit, the park provides camping facilities, a boat launch and excellent rainbow trout fishing.

Continuing north you will near the Spatsizi Plateau Wilderness Provincial Park. As there is no road access to this rugged park, visitors must enter by foot (wilderness experience necessary) or float plane from Smithers or Terrace. Outfitters in the area offer guided horseback tours.

Stikine River:
This beautiful, wide river is navigable until the bridge, after which is the Grand Canyon. Start canoeing or kayaking trips from the Spatsizi Park

Dease Lake:
Located 490 km (302 miles) north of Kitwanga and 234 km (145 miles) south of the Alaska Highway is Dease Lake. This is the region's government and supply centre and offers full services, guides and outfitters for wilderness treks. The towns of Dease Lake and Telegraph Creek were established in the 1860's when the Collins Overland Telegraph Cable made plans to run cable from Paris to New York through Northern BC. It was later used during the Klondike Gold Rush by miners heading to the Yukon.

Telegraph Creek:
First settled in 1861, Telegraph Creek is situated on two terraces above the Stikine River. It is the only settlement on this 600 km (372 mile) river. Exceptional hiking, guided river-rafting, boat charters and full services are available here. Telegraph Creek is located 113 km (70 miles) from Dease Lake.

Mount Edziza Provincial Park and Recreation Area:
No road access or services are available in the park but guided tours and horse-back trips may be arranged in Telegraph Creek and Dease Lake. The park begins across the Stikine River from Telegraph Creek.

Continuing north along Highway 37 are rest areas and beautiful scenery. The junction to Cassiar is located at Jade City.

Cassiar:
A ghost town since 1992, Cassiar was once an asbestos mining centre.

The following BC Adventure members would like to serve you: