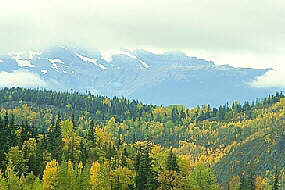 Iskut, Telegraph Creek and Dease Lake are located along Highway 37, often referred to as the Stewart-Cassiar Highway. It links the Yellowhead 16 with the Alaska Highway west of Watson Lake. The 733 km (454 mi.) route is slightly shorter than the comparable route on the Alaska Highway. On this route you will see some of the most inspiring beauty and abundant wildlife on this continent. There are three major provincial parks is this area; Mt. Edziza, Spatsizi and the Stikine River Recreational Area, all of which can introduce you to a variety of outdoor adventures from hiking craters and glacial moraines to river boating, kayaking and canoeing along the rivers. One popular canoe/kayak trip is on the Dease Lake and River system; putting in a Dease Lake and pulling out at Lower Post.
The communities along Highway 37 are informal and friendly. Approximately 200 km (124 mi.) north of Meziadin Junction, the lodges, resorts and campgrounds of the Iskut area begin, stretching along the route for 65 km (40 Mi.). Dease Lake is the service and government centre and the largest settlement on the highway. The jade holdings to the northeast are of world stature, making Dease Lake the "Jade Capital of the World". Dease Lake is also the cut-off for Telegraph Creek, a historic village 119 km (73.7 mi.) to the west. It is here that the Tahltan and Tlingit people are said to have met to conduct major trade. Later, Telegraph Creek was the head of navigation during the construction of the failed telegraph line between New York and London. Today, its main street has scarcely changed since the gold rush when it was an important transfer centre. Telegraph Creek is protected from the harsh climate by the surrounding Coast Range, resulting in a unique ecosystem.
For a contrast of cultures, old and new, or exposure to fascinating natural wonders, highway 37 and its communities can bring you this and more.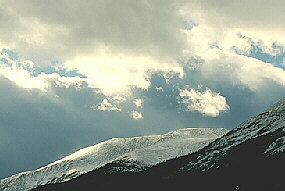 Population: Dease Lake - 700 Iskut - 350 Telegraph Creek - 450
Climate: Summer average - 18'C • Winter average - 4'C
Precipitation: Rainfall - 150 cm/yr Snowfall - 28 cm/yr
Access: Access is via Highway 37. Commercial flights to Dease Lake and Telegraph Creek with private aircraft airstrip at Iskut.
Main Industries: Dease Lake - government centre, supply & service point
Iskut - forestry, mining, tourism and service centre
Telegraph Creek - agriculture, fishing, mining, tourism
Recreation Facilities & Activities: camping; horseback riding; river rafting; fishing; boating; hiking; hunting; jet-boating; wildlife viewing; guided tours; flightseeing
Local Attractions: Stikine River Recreation Area; Mt. Edziza; Spatsizi Plateau; Stikine River Canyon; Historic St. Aidan's Church; Hudson's Bay Post Heritage building.
Accommodations: Private and provincial campsites are throughout the region. There are a number of motels and lodges along the highway and on lake or river sides.
For Information:
Dease Lake and Tahltan Chamber of Commerce
P.O. box 338 (NW), Dease Lake, B.C. V0C 1L0
Telephone: (250) 771-3900