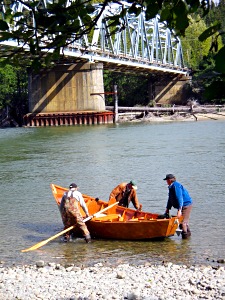 For those interested in nature and industry, Kitimat is an excellent choice. The community enjoys a beautiful natural setting and is also home to some of the most advanced industrial technology in North America.
---
Located 60 km (38 mi.) south of Terrace, Kitimat was built in the 1950's to attract industry. It is home to one of the world's largest smelters as well as a pulp and paper mill and petrochemical manufacturer. You can tour one of these enterprises or head for the country for some "natural" sites.
A trip to the Kitlope Valley (100 km/62 mi. southeast of Kitimat) offers visitors a glimpse of the world's largest intact coastal temperate rainforest.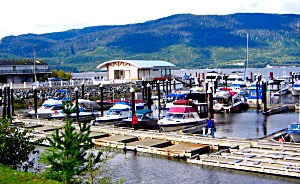 Closer to town, the Kitimat River Fish Hatchery or Douglas Channel, the 130 nautical mile fjord, offer spectacular sights as well as recreational opportunities such as outstanding fishing, wildlife viewing or even basking in one of the nearby hot springs.

Kitimat and area also offer an extensive hiking trail system; heli-hiking tours are even offered for those who desire quick access into alpine areas.

For those interested in First Nations culture, the Haisla Rediscovery Society offers rediscovery camps in the Kitlope and welcomes all people to participate.

With Kitimat having something to offer everyone, it continues to attract visitors from around the world.


Accommodation/Adventure Providers




If you would like to have your business listed, please Click Here.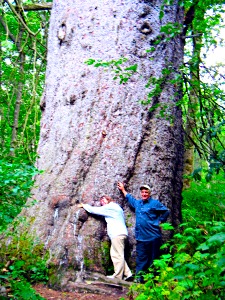 Accommodations: There are numerous hotels/motels in the area as well as three campgrounds.
Access: Kitimat is 60 km (38 mi.) south of Terrace on Highway 37. It is also accessible by commercial air service, rail, and bus. Population: 11,305
Attractions: Kitimat River Fish Hatchery, industry tours, Douglas Channel, International Food Fair, Kitlope Valley, Haisla Nation Rediscovery Camps, Kitimat Centennial Museum, Taxidermy and Wildlife Display, Sitka Spruce Tree, Moore Creek Falls, Humphrey Creek Falls
April - Arts, Crafts & Home Business Fair
July - Canada Day Celebrations, Hill Climb & Car Show
August - Kitimat Sea Hunt (scuba diving), Fat Tire Mountain Bike Race
September - Annual Fishing Derby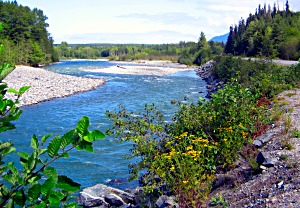 Recreation Facilities & Activities: racquet courts, gym, soccer and baseball fields, skating rinks, aquatic centre, golf course, established hiking trails, heli-hiking tours, fishing, swimming, camping, scuba diving, water-skiing, wildlife viewing, charter fishing companies.
Climate: Summer average - 16'C Winter average -1'C Precipitation: 198 cm/yr
Main Industries: aluminum smelter, pulp & paper mill, petrochemical manufacturer
---
Travel Information:
Kitimat Chamber of Commerce
Travel Infocentre, P.O. Box 214 (NW), Kitimat, B.C., V8C 2G7
Tel: (250) 632-6294 • 1-800-664-6554 • Fax (250) 632-4685
Kitlope Nu-yum Rediscovery Society • phone (250) 633-2179