Fishing Tofino, Tahsis & Zabellos
Sport Fishing Clayoquot, Kyuquot & Nootka Sounds
SOUTH COAST
Barkley Sound • Campbell River • Clayoquot, Nootka & Kyuquot Sounds •
• Southern Vancouver Island • Northern Vancouver Island • Sunshine Coast •
• Strait of Georgia (Courtenay, Comox & Nanaimo) • Vancouver & Howe Sound
---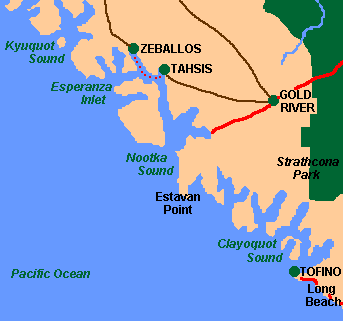 Sport Fishing Tofino Clayoquot Sound
The beautiful village of Tofino located at the southern border of Clayoquot Sound (approximately a 3 hour drive from Nanaimo) is a mecca for west coast tourists. Abundant sea life such as whales, sea lions and seals draw nature lovers and photographers from all over the world (See Wildlife Viewing). Other recreational activities include golf, sea-kayaking, and beachcombing along the white sands of Long Beach in Pacific Rim Park.
Clayoquot Sound also offers great sport fishing for both small and large boat anglers. Unlike Barkley Sound where much of the angling is done in open offshore water, this area offers large protected water that is suitable for smaller open boats.
Best Times
While feeder springs are available in the inshore waters during winter the main run of migratory Chinook salmon up to 25 lbs. will start appearing in small numbers offshore in early April. By late May fishing is starting to get good and by July, large Chinook up to 50 lbs. are being reported in the protected inshore waters. Chinook fishing will peak in August. Small Bluebacks show offshore in May and by early June, Coho in the 10 lb. range are reported inshore. Large Northern Coho are found in the area during September, peaking by mid-October. Offshore Halibut is best during May and June. Rockfish and Lingcod are plentiful in the inshore water.
Sport Fishing Tahsis & Zeballos, Nootka Sound
Easily accessible by driving due west from Campbell River, the fine fishing grounds of the Nootka Sound area have brought smiles to the faces of countless sport fishermen. Resorts, lodges and guides are numerous in the area as well as lodging and services found in the nearby villages of Gold River, Tahsis and Zeballos.
Best Times
Feeder Chinook up to 15 lbs. are available offshore during the winter months. Large migratory Chinook up to 40 lbs. start showing offshore in June and move inside in early July. The run will peak in August. Coho action starts in early summer and will peak in fall. September and October are the best Coho months. Nootka Sound is also an excellent producer of Rockfish, Lingcod and Halibut.
Kyuquot Sound
Rugged West Coast beauty, where albatross glide inches above the ocean swells and sea otters anchored in kelp float lazily on their backs eating sea urchins. This is Kyuquot Sound, a spectacular natural setting, and home to some of Vancouver Island's best Chinook. Along with Quatsino Sound to the north, Kyuquot is situated perfectly to intercept migratory Chinook runs heading south for Nootka Sound, Clayoquot Sound, Barkley Sound, as well as the Fraser River and many more southerly U.S. home rivers.

Best Times
The best Chinook angling is during the months of June, July, and August. While late August marks the end of good Chinook, large Coho action is just starting to heat up and can be often taken on the fly. Most angling in Kyuquot Sound is done near shore, however don't be fooled in thinking this is small boat country. This is an area of large swells, rocks, and kelp beds and it is strongly advised to either hire a guide or travel with someone who has fished and knows the area well. Kyuquot is a west coast gem. There are a couple of resorts situated in the area, as well as the small village of Kyuquot. You will definitely not be angling in a crowd as you might in the more easily accessible southern west coast areas. In fact you will probably see more sea-kayakers than fishermen. But hey! that's what it's all about - fantastic scenery, abundant wildlife and great angling! (See Game Fish of BC)

If you would like to have your business listed, please Click Here.
---
---