Bamfield, BC
Saltwater Salmon & Halibut
Sportfishing Hotspots
with D.C. Reid
---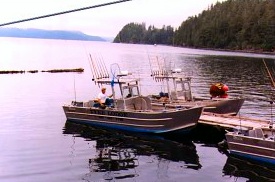 General Description
Located on Vancouver Island, 246 km from Victoria, BC, on paved and gravel roads, Bamfield is a very pretty small town that serves as good, sheltered moorage on the south side of Barkley Sound.
Originally built in 1859, Bamfield gained worldwide prominence at the turn of the century serving as the western terminus of the first trans-Pacific telegraph cable. The West Coast Trail ends in Bamfield and the Broken Island Group in Barkley Sound is a kayaker's haven.
BC Adventure Members serving this area:
Winter fishing at Bamfield is influenced by southeast gales and these blow directly on the leading edge Pacific shores, necessitating fishing close to the harbour mouth. Herring gather in large numbers for a February-March spawn on Barkley Sound's northern shore, particularly Vernon Bay, drawing resident feeder chinook into deep-water holding areas.
Summer fishing at Bamfield is influenced by proximity to the Alberni Inlet. Large runs of sockeye from the Stamp/Somass River system and Henderson Lake and chinook from the Robertson Creek hatchery swim by Bamfield on their way to Alberni Inlet rivers. Fishing occurs close to many rocky, island hotspots and success depends entirely on finding bait.
In recent years, pilchards have begun breeding in the area once again and evidence suggests that mackerel, with on-going El Nino weather patterns, have initiated spawning activity as well.
Annual Cycle of Runs
All five species of salmon may be found in Bamfield waters: chinook, coho, sockeye, chum and pink . As with other areas, the latter three species are mature, migratory fish encountered in summer months. This is an especially good area for sockeye, combining Alberni Inlet runs with Fraser River runs. Chinook provide winter fishing for resident, feeder salmon.
Although some winter feeder chinook salmon come in earlier, Pacific gales often prevent fishing until February - March. These fish are feeding on large, spawning herring. Fish to 30 lbs are recorded annually, making this a fishery for larger than average feeders.
May brings calm enough weather to venture out to Swiftsure Bank. There, excellent trolling for early, 20-30 lb. Columbians may be found. Halibut move onto the Bank at this time and also to inshore areas.
By the end of May the first summer coho arrive followed by Port Alberni sockeye salmon. Sockeye hold until early July when successive waves pour down the Alberni Inlet bound for Henderson Lake and the Somass River. Coho size peaks in mid-September at 15 - 19 lbs.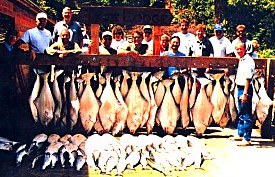 In June, 20 lb feeder chinook salmon appear in onshore locales. After the action wanes by the end of the month, chinook action picks up for summer migratory Robertson Creek chinook at the end of July. August is the hot month for chinook to 40 lbs, which generally move from Cape Beale to Diplock and the Rainy Bay areas.
In August - September, chum for the Sarita River Carnation Creek hatchery and the Nitinat River move through.
Chinook and coho fishing tails off by mid-October when rain washes fish to their natal rivers in the Alberni Inlet.
Weather then prevents fishing until late January when winter fishing for feeder chinook begins the cycle once again.
---
---
Lures on an Annual Basis
Bait: Whole herring or anchovies at 180 - 200' in green or clear teaserheads without flashers is the winter feeder preference. Utilize a slow roll and 5 - 6' leader when employing flashers.
Hootchies: Army Truck, Red Army, Tiger Prawn squirts for summer chinoook due to presence of needlefish. Use white, white pearl, green and white, or Army Truck hootchies for May feeders, with a 44" leader to a dodger. A glow Gatorback in green and white with a 5 - 6' leader to a flasher is a winter favourite. Pink plankton squirts, or orange hootchies on 18-20" leaders to a slow-trolled red Hotspot flasher is the sockeye gear of choice.
Plugs: 4-6" models, particularly the 301, as well as: 500, 602, 158, 156 and 700. Winter favourites include the 264 and 242. Use larger plugs in summer when mackerel abound.
Spoons: Large Tom Macks, also Wobblers. Bamfield is not noted as a spoon locale.
Apexes: 7" white and white with a yellow stripe (trolled fast without a flasher), also silver. Use longer models when mackerel present themselves.
Bucktails: Grey Ghost, white, green and white, and purple and white with abalone spinners for fall coho. Speed up and troll the lure right in the prop wash, 25' from the transom. The red and purple bucktail can be particularly effective.
Drift Fishing: For late spring chinook fishing, 60 gm MacDeeps, Pirkin and Stingsilda in white or white pearl with purple, green or black edging. Also pink pearl Zzingers. Home made 1-1 ½ lb pipe bombs with green, pink and clear striped hootchie skirts take halibut on Swiftsure Bank. Commercially available lures include Norwegian Jigs, Lucky Jigs and 'But Slammers.
---
---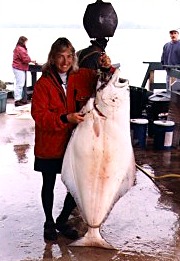 Overall Strategy and Specific Fishing Areas
Another remote trophy area, Bamfield provides both onshore and offshore fisheries: Barkley Sound; Nitinat Lake; and, Swiftsure Bank.
Winter fishing concentrates at Swale Rock and in Vernon Bay, as the chinook follow the spawning herring. The presence of large bait necessitates large lures, trolled deep. Barkley Sound provides a major summer fishery for all five species of salmon. In Bamfield, fish concentrate close to very rocky shores where needlefish crash in the surf. Try King Edward, Folger, and Bordelaise Islands and off Cape Beale. Look for good lingcod and rockfish off Seabird Rock. Diplock Island presents a very tricky rock-engorged channel for the adventurous seeking big chinook in August.
Summer sockeye school in midchannel and move through to the entrance to the Alberni Inlet. Fishing depth is 45 - 75'. Add extra flashers to the downrigger line, ie., stack rods and flashers.
Swiftsure bank is 25 miles from Bamfield harbour or 22.5 miles from Cape Beale. Nitinat bar and lake lie 13 miles south east of Bamfield and support a major tyee chinook fishery in late August. In due course, both areas will be reviewed in this series of hotspots. Note that the angler is strongly recommended to take a guide to these remote and potentially dangerous spots. Do not venture offshore without a full complement of electronics: depthsounder, radar, VHF and global positioning system. Keep the weather channel on.