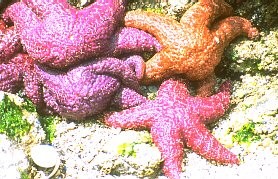 PACIFIC RIM NATIONAL PARK RESERVE
---
Pacific Rim National Park Reserve of Canada (PRNPR), in British Columbia, consists of three geographically seperate areas including Long Beach, the Broken Group Islands and the West Coast Trail. The Long Beach area is named for the longest of a series of beaches on Vancouver Island's west coast, the Broken Group Islands is an archipelago of over 100 islets in the Barkley Sound and the West Coast Trail is 77 km (48 miles) of difficult hiking which was originally used as a life saving trail for shipwrecked mariners battling the elements of Vancouver Island's west coast.
LOCATION
The park is located on the west coast of Vancouver Island and may be accessed by Highway 4 via Port Alberni.
For more information and recent updates, visit the Parks Canada website at http://www.pc.gc.ca
If you would like to have your business listed, please
Click Here.
LONG BEACH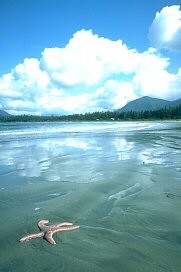 The Long Beach Unit is located between the villages of Ucluelet and Tofino, and named after the 16 km (10 miles) sandy beach of Wickaninnish Bay. Best known for its incredible beaches and rugged rocky headlands, Long Beach is a favorite for those wishing to hike the sandy trails, beachcomb, enjoy the pounding surf, the dense coastal rainforest or view an impressive array of bird and wildlife. Each spring over 20,000 grey whales migrate through the park waters. The Wickaninnish Centre is an intrepitive centre located at the water's edge and should be visited to learn about the park's marine ecology and the ocean and forest environment.
Camping
Long Beach Unit: the park's front country option, Green Point campground, has both drive-in and walk-in sites. Green Point Campground is the only campground in the spectacular Long Beach Unit. The campground is located 12 km north of the Ucluelet-Tofino junction on Hwy.4, midway between Ucluelet and Tofino. Since Green Point Campground was established in 1962, people from all over the world have come to experience the beauty and tranquility it has to offer. Equipped Campsites have been set up for campers in the walk-in sites. Campers who reserve the Equipped Campsite will be directed to a fully assembled campsite upon arrival, and enjoy the benefits of camping in a safe, comfortable, and enjoyable setting. Each Equipped Campsite consists of a 4 or 6 person tent, sleeping pads, tarp shelter, cook stove, lantern, picnic table, and fire pit. Campers supply their own bedding, kitchenware, flashlight and personal effects. There are private campgrounds in the area offering various services.
Hiking & Trails
A trail system leads the visitor to various viewpoints and other notable features.
---
---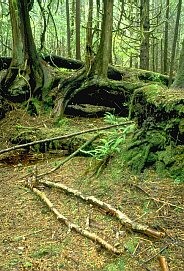 BROKEN GROUP ISLANDS
The Broken Group Islands Unit is an archipelago of more than one hundred islands and rocks scattered throughout Barkley Sound and is accessible by boat only. The 100+ small, rocky islands are accessible only by boat. A kayakers and canoeists paradise, this area offers protected anchorages and numerous sandy beaches. Bird and wildlife is abundant and the undersea world offers divers some of the world's best diving oppurtunities including old wrecks and a varied marine life.
Camping
All camping in this unit of the Park must be within designated camping areas located on Hand, Turret, Gibraltar, Willis, Dodd, Clarke and Gilbert Islands. Visitors may stay a maximum of 14 nights on the Broken Group Islands. The peak visitation period for the Broken Group Islands is from mid-July through August. Campers arriving in this period can expect to share camping areas with many other campers. To avoid the crowds of peak season try camping in May through early July, or in September. Maximum stay in the Broken Group Islands is 14 days. Maximum stay at each camping area is 4 nights.
WEST COAST TRAIL
This trail is a multi-day backcountry hike for experienced hikers with designated campsites along the route. The West Coast Trail Unit is a 75 km (47 mile) backpacking route along the temperate rainforest, sandstone cliffs, waterfalls, caves, sea arches, sea stacks and beaches of western Vancouver Island. A varied terrain and abundant wildlife species attract visitors from all over the world each year. The West Coast Trail is open May 1 to September 30. Reservations must be made to ensure that the parks natural habitat is protected from over-use. Starting points are from Port Renfrew, Bamfield and Nitinat Lake. Beginning in January, reservations for the West Coast Trail can be made for any date between May 1 and September 30 through the Parks Canada Reservation Service. Spaces fill quickly, so consider setting up an account prior to January.
For more information and recent updates, visit the Parks Canada website at http://www.pc.gc.ca
---
---