Desolation Sound, British Columbia, Canada
Desolation Sound is located north of Powell River and Lund on BC's Upper Sunshine Coast; 90 miles north of Vancouver. Lund is the closest community, town or city. Captain George Vancouver first sailed these waters in 1792 - and seeing the land and seascape so remote and forbidding, he was inspired to name it Desolation Sound. Desolation Sound Marine Provincial Park was created in 1973 and continues to be a popular destination in BC's marine park system.
Desolation Sound Marine Provincial Park:
This 8,449 hectares park is a popular destination for yachters. Located at the confluence of Malaspina Inlet and Homfray Channel, Desolation Sound Marine Provincial Park has more than 60 km of shoreline, numerous islands, small bays and snug coves. Swimmers and scuba divers love the warm waters; while campers enjoy the forested upland that offers trails and small lakes and a shady refuge for walk in wilderness tent sites.
This park can be split up into three major destination anchorages:
Prideaux Haven: Strategically located as a base for exploring the Sound, this anchorage is an elongated bay dotted with islands and small coves at the far north end of the park. A pit toilet is also located here.
Tenedos Bay: A sheltered bay east of Mink Island in Homfrey Channel. Nearby Unwin Lake provides a great opportunity for a freshwater swim. Pit toilets, wilderness camp sites and an information shelter are also located here.
Grace Harbour: A large sheltered bay located in Malaspina Inlet and surrounded by Gifford Peninsula. This area provides pit toilets, wilderness camp sites, an information shelter and an upland hiking shelter.
Kayaking:
The scenery and warm protected waters teeming with marine wildlife make Desolation Sound one of the best sea kayaking areas on the B.C. coast.
Visitors to this area enjoy meandering through the many inlets, channels, coves and bays as they explore by sea kayak. The towering mountains of the Coast Mountain Range create a dramatic backdrop, and the rich sunsets towards Vancouver Island light-up evening skies.
With water temperatures reaching as high as 26C (79F), swimming is a popular option to the Desolation Sound experience. However, perhaps even more enticing than swimming is the opportunity for up-and-close experiences with the area's rich and colourful intertidal marine life. Snorkeling in Desolation Sound is wonderful. With Giant Sunflower Stars, Red Sea Urchins, prickly-looking Sea Cucumbers, spiny Rockfish, and so much more, snorkeling in Desolation is a highly recommended activity.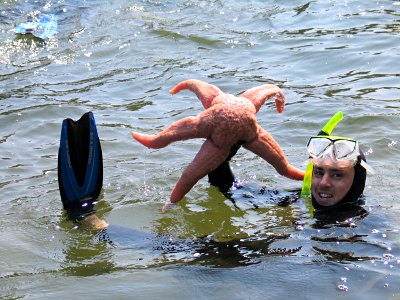 Desolation Sound Marine Park is comprised of 5,666 hectares (14,000 acres) of forested upland and 2,570 hectares (6,350 acres) of foreshore and is one of British Columbia's largest marine parks. This, in combination with the areas adjacent to Desolation Sound, makes for one extremely large ocean playground. For many kayakers a trip to Desolation Sound includes paddling into the majestic mountains of the Redonda Islands and into Toba Inlet. For other more laid-back paddlers, paddling Desolation means including some downtime on the sandy beaches of Savary Island or meandering through the ragged islands of the Copeland Islands Marine Park, just off of Lund. For those with a little less time, the "backside" of Desolation Sound Marine Park includes Okeover, Malaspina, Lancelot and Theodosia Inlets, all beautiful and sheltered areas to explore by sea kayak. And, yet another option to include as part of the Desolation Sound experience is Cortes Island, its secluded lagoons and beautiful marine parks.
| | |
| --- | --- |
| | Spirit of the West Adventures: We offer sea kayaking tours to the Johnstone Strait & the largest pods of killer whales on the BC coast – Desolation Sound, Quadra Island, & Campbell River - & guided excursions to explore ancient native villages. Set a course for a one of a kind wilderness a... more |
If you would like to have your business listed, please Click Here.

Access: Located 30km's north of Powell River, on the Sunshine Coast, access to Desolation Sound is often through Powell River and then on to staging areas north of Powell River in either Lund or Okeover Inlet. Powell River is accessible by ferry from Vancouver (Horseshoe Bay) and from Vancouver Island (Comox).

Another option to access Desolation Sound is via ferry from Campbell River (on Vancouver Island) to Quadra Island and then on to Cortes Island. From Cortes, launchsites are located at either Squirrel Cove or Cortes Bay.

Trip Time: Day trips into Desolation Sound Marine Park can be experienced if launching from Okeover Inlet. Otherwise, most paddlers experience Desolation Sound over trips ranging from 3-6 days. For those seeking to fully experience Desolation Sound and the surrounding destinations, at least a week is optimal, if not longer.

Difficulty: Waters here are mostly protected and rarely rough, except for Toba Inlet. Good family kayaking.

Season: Anytime from March to October, like many other areas, it's busiest from mid-June to mid-September.
---
British Columbia Adventure Network © 1995 - 2023 Interactive Broadcasting Corporation