Lund, BC ...
The gateway to world-famous Desolation Sound, the waterfront Hurtado Point Trail, and the Ragged Island Provincial Marine Park.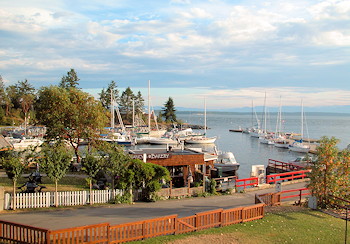 Lund Harbour. Photo courtesy of The Lund Hotel
A trip to the Sunshine Coast would not be complete without a visit to the Village of Lund at the end of the Pacific Coast Highway, and the final destination point of Highway 101 (also named the Pan-American Highway). The Pan-American Highway is the world's longest highway, stretching from North to South along the coasts of North and South America.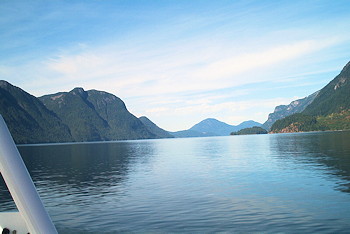 Desolation Sound. Photo courtesy of The Lund Hotel
Location: Located approximately 28 kilometres North of Powell River, the drive to Lund is scenic and takes about 1/2 hour of easy driving. Along the trip you'll travel through the communities of the Historic Townsite, Wildwood Heights, and Sliammon First Nation and find many areas where you can stop and enjoy the views of Malaspina Strait and the Islands dotting the Coast.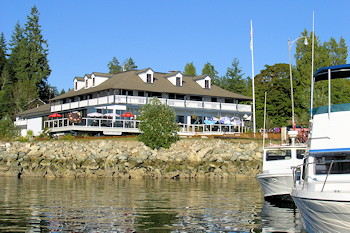 The Lund Hotel & Marina. Photo courtesy of The Lund Hotel
Accommodations: Choose from cottages, hotel, resorts, campground, and cabins.
---
Accommodation/Adventure Providers




If you would like to have your business listed, please Click Here.
---
Annual Events:
Lund Annual Shellfish Festival … daily events and shellfish delights are planned each May along the harbour-front. Enjoy the music, the tours, the food booths, the presentations, and special menu items at the restaurants. Stay overnight and enjoy special rates offered by Lund's accommodation providers. Bring the family - there are activities for everyone!
Lund Dayz held in August … festival of children's events, fishing derby, Nanaimo Bathtub racers.
---
For Visitor Information on the Powell River, Lund, Savary Island, the Village of Sliammon, and Texada Island area contact:
Powell River Visitor Info Centre
4871 Joyce Ave, Suite 111, Powell River, BC, V8A 5P4
Email: tourism@discoverpowellriver.com
Toll Free: 877-817-8669
Telephone: 604-485-4701
Sunshine Coast Tourism
PO Box 1396, Sechelt, BC V0N 3A0
Call Toll Free: (866) 941-3883
Email: info@sunshinecoastcanada.com