Salmon Fishing
On the British Columbia's Sunshine Coast

Article & Photos by Fred Kuzyk, Coho Sports

---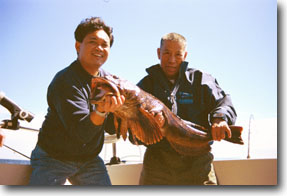 Close to Vancouver yet far from the urban life, British Columbia's Sunshine Coast is a fisherman's paradise. If you'd describe yourself as an avid fisherman, you really should check out this area during sport fishing season!

Bordered by snow covered BC's Coastal Mountains, this protected coastline stretches 175 Kilometers (105 Miles) along the northeast shores of the Strait of Georgia, from Howe Sound to Desolation Sound.Clean sparkling Pacific waters, secluded sandy beaches, bays with Red Cedar and Arbutus trees sprinkled along the coast line. Canada Geese, Bald Eagles, Blue Herons and Osprey share the sky and shore.

Local's boast 14 more days of sunshine per year than HAWAII with approximately 270 growing days per year. All of this is only two hours by car and Ferry from Downtown Vancouver, British Columbia, the picturesque, 40 minute ferry ride from Horseshoe Bay to Langdale with the paved coastal highway following the coast north.

This area offers relatively protected waters for sport fishing on Georgia Strait with Vancouver Island protecting this area from the open sea, the numerous islands also offer shelter, where you are not subject to the high seas of the Pacific Ocean (no swells or fog).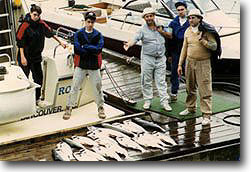 The Sunshine Coast offers year round guided saltwater fishing for Chinook Salmon at great resorts at such locations as Secret Cove, Pender Harbour and Powell River. Feeder Chinooks are present during the winter months and the migratory Chinook start showing up late spring with the best fishing from June to September.
Coho are best from June to September, while the Northern Coho are available from September to October. Pink and Sockeye go bye from mid August to Mid September and Chum Salmon from September thru October.
Another big attraction to the anglers is the bottom fish fishery, Large Red Snappers (Yellow Eye), Lingcod, Rockcod, Flounder and Tommy Cod. Most of these species are open year round with only Lingcod being closed from October to May. For the seafood specialists the prawning and crabbing is excellent year round all along the Sunshine Coast.
Unique to the Secret Cove and Pender Harbour area, mooching is the way most of the guides and local anglers fish for these tail-walking salmon. Most of the fishing is done from larger charter yachts from 26ft. to 40ft. The salmon fishing techniques are quite different, not using a Cut plug or trolling for the Salmon, we Mooch, this means we locate the schooling bait fish off reefs and kelp beds with sounders and anchor the vessel over the bait fish and use live herring, the natural food for the Salmon.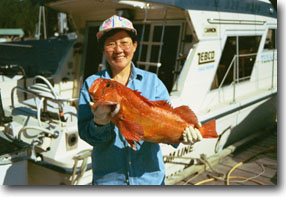 Equipped with long limber 10ft salmon rods, a single-action graphite fishing reel, a 3 ounce weight, about 8ft of light leader and a single #10 treble hook in the nose of the live herring. Fishing anchored we are able to fish from 4 to 7 rods around the vessel at different depths from the bottom to the surface. Live bait is available at most Marinas from Gibsons to Pender Harbour. This offers a natural light tackle fishing method for the Salmon and is a fun way to fish for these powerful fish.
Local fishing spots in this region of BC include Halfmoon Bay, Bucaneer Bay, Secret Cove, Lasquiti Island, Texada Island, Seal Reef, Bejji Shoals, Bargain Harbour, A Frame and Quarry Bay ... just to name a few.
When planning your next British Columbia saltwater fishing trip, this region is arguably one of the best light tackle salmon fishing destinations in Canada. The season never ends it just gets better at certain times.


bcadventure.com

© 1996 - 2022 Interactive Broadcasting Corporation