Preparing Your Equipment & Boat
article and photos by Gordon Honey
---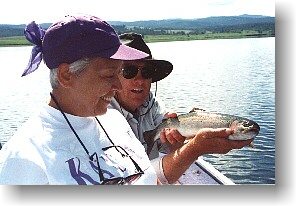 At last, the angling season begins! What a long winter!! If you are like me you have tied more flies than you could use in two lifetimes, never mind, they make great gifts for our non-tying friends.
Before heading out on the water, take time to prepare. You have paid hard earned money for your tackle, spend a few moments in the evening cleaning your sinking fly lines - with clean water and a soft cloth. For floating lines there are now cleaning products on the market that not only clean but rejuvenate the floating abilities of the line. Clean lines not only last longer, but they cast smoother and farther
Take your reels apart, and clean out all that accumulated grime and sand from last year - a Q-Tip works well, re-grease and oil, not only will they last longer but they will not squawk and screech as that first BIG ONE of the season rips into your backing. Check your leaders, organize your flies into like rows or specific groups, for easy selection that will reduce stress from those frantic and frustrating searches, as the hatch and bites begin.
Boat set up; even with the ever increasing popularity of pontoon boats and float tubes, the majority of angling on our lakes is from boats. Boat setup for the fly fisher can make your day on the water a lot more enjoyable. Here are some tips on setup that many of you are already aware of, but please bear with me, as there are a great many new anglers joining our passionate pursuit of trout.
Be it an aluminum or fibreglass boat, cover the interior floor areas with a carpet, rubber backed kitchen types or turf type indoor-outdoor, glue them in if you wish but it is much better if they are removable, allowing you to shake out the accumulated sand, gravel, etc. that can ruin your fly line.
Why carpets? Two reasons, they make you quieter on the water, especially in an aluminum boat, but more important, they protect your valuable fly lines, cushioning them when stepped on. Soft soled shoes help a lot as well.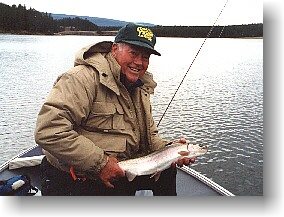 Anchors: two is best, fore and aft, (bow and stern) keeps the boat from swinging in the wind, thus allowing you complete control of your line, as a result your important retrieve is totally controlled by you and not the wind!
Anchor stays, and good quality rope make raising and lowering the anchors easier and safer. i.e.: you can remain seated, not balancing precariously, trying to haul in the bow anchor. Don't rock the boat!!!. Why good quality rope? No matter what you do, it will not tangle. Also, keep your rope wrapped on a board or in a container of some kind such as a bucket, it is much easier to transport your anchor systems and it keeps the rope from under foot in the boat.
Stow your gear so that it is not under foot, there is nothing worse than hooking a reel screaming godzilla trout that breaks off as your line tangles on whatever it can find, and find and tangle it will, right!
Preparing for your fishing trip not only heightens the anticipation, but it's well worth the time you invest. Properly maintained gear and a neat and tidy boat, makes for more enjoyable days on the water!
---
Gordon Honey gordon@flyfishingservices.com