Bone Fish of the North....
The Kamloops Trout-Page 2
article and photos by Gordon Honey
Page 1| Page 2 | Page 3
---
Feeding Characteristics: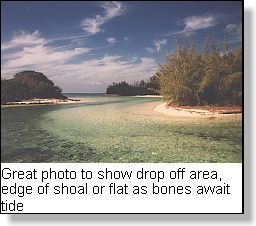 Kamloops trout are readily available to the fly fisher due to their penchant for foraging in shallow water or shoals, especially marl shoals yes, marl just like on the flats in the Bahamas! Trout can be found in water from 15 feet to 1 foot in depth. Bones as frout are found in water depths from 6 feet to 6 inches and they too love marl patches in turtle grass. Our lake shoals abound in aquatic vegetation very similar to turtle grass called chara.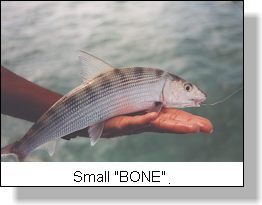 Trout prowl the shoals in schools as well as singles and doubles, as do bones. Fresh water shoals like saltwater flats abound in food but at the same time are a dangerous place for them to be. Thus trout like the bones are extremely nervous, and can prove difficult to catch under flat calm conditions in shallow water! Bones fear two predominant predators sharks and barracudas. Trout as well have two main enemies although somewhat less dramatic as far as the end is concerned loons and ospreys' still threaten a trouts' well being! Given the right conditions, a stiff breeze for cover and an abundance of food trout, like bones will commit suicide all day long.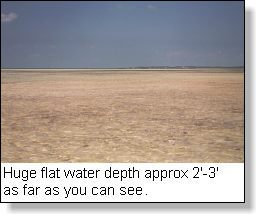 When Trout are cruising the shoals they are visible and can be "sight fished" just like Bones, but when they feel threatened they move off the clear marl patches and seek cover in the chara areas where their dark green backs makes them very difficult to spot. Bones do the same thing in turtle grass.
Kamloops trout predominately eat invertebrates fresh water varieties of shrimp and snails and leeches would parallel the bones choice of shrimp, snail and worms (like leeches). The major difference in the food sources would obviously be hatches and the Trouts love of adult, dryflies. Although Randall Kaufmann does makes mention of surface flies in his excellent book "Bonefishing With a Fly", so the thread is still there although somewhat thin. In the Bahamas we saw bones literally rolling on the surface in a huge muds one morning, I remember thinking my God this looks just like White Lake at home! Trout like bones hang around at the drop-off, the deeper edge of the shoals or flat waiting for something to happen. Trout await a hatch and bones the tide.
Although trout do not create a muds like bones they will however go tail up and root around the weed bottom for shrimp and snails, you can actually see depressions in the chara weeds and marl patches just like you can on the flats of the Bahamas.
Another parallel is the predictability of both trout and bones in areas they frequent Randall Kaufmann refers to this comparison in his book.

Page 1| Page 2 | Page 3
---
Gordon Honey gordon@flyfishingservices.com