British Columbia Outdoor Wilderness Guide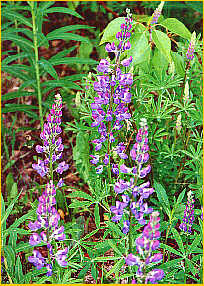 Lupine
(Lupinus arcticus)
a.k.a. arctic lupine
Lupines are one of the more common wildflowers in British Columbia. This member of the pea family is a perennial which can reach a height of over 70 cm.
---
LEAVES:

- the majority come from the base of the plant
- long stalks (twice as long as the blade)
- Lupines have 6-8 leaflets (3-6 cm. long) eminating from the end of the leaf stem: spear-shaped with sharp pointed tips
- smooth upper surface with a hairy underside
- at night the leaflets fold down
- the cluster of leaflets follows the sun throughout the day
FLOWERS:

- Lupine flowers are blue, purple or pink 12-15 mm. long
- are in clusters on long spikes
- pea-like
FRUIT:

- 4 cm. hairy pods
HABITAT:

- Lupines grow in moist climates throughout BC.
- Lupines appear at all elevations but predominantly in mid to subalpine areas
- Lupines prefer open areas.
FASCINATING FACTS:

- Lupines provide a beautiful panorama in British Columbia meadows
- a favourite delicacy of BC's loveable marmots
- some forms of Lupine are regularly cultivated in gardens
- after a rain, look for the 'diamonds' of water glistening in the 'palms' of the Lupine leaves.