Smithers - A Town for All Seasons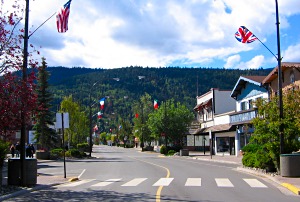 Smithers is located in the heart of the Bulkley Valley. The community is surrounded by mountains which provide the backdrop for the downtown's Alpine setting. Smithers also provides mountain lakes, rivers and waterfalls for the adventurous to experience and explore.
---
The spring and summer months lure the outdoor adventurer to the surrounding mountains to see nearby glaciers, hike or horseback ride in the alpine meadows. The fossil formations at Driftwood Canyon Provincial Park are a haven for the rock hound.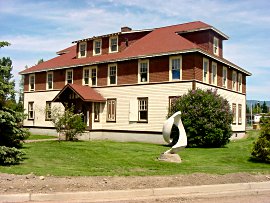 Photo credit to Smithers District Chamber of Commerce
Area lodges cater to those who are keen for fishing, wildlife watching, canoeing or even photo safaris.Fall lures the hunters and fishers, while the majestic changing colours are a magnet for the avid photographer. Cross-country and down hill skiing plus snowmobiling are there for those who enjoy winter activities.
Smithers also boasts a colourful history; once the divisional headquarters of the Grand Trunk Pacific Railway, the era can be relived at the Bulkley Valley Museum.
The local wildlife museum and fish hatchery encourages a closer look at the regions natural inhabitants.
No matter what the season, Smithers offers a smorgasbord of activities guaranteed to whet the appetite of the explorer, thrill seeker or romantic.

Accommodations: There are two nearby provincial park campsites as well as municipal and private campsites. There are a number of hotels/motels in town with lodges and resorts in the surrounding area.
Accommodation/Adventure Providers
| | |
| --- | --- |
| | Round Lake Resort: A BC Tourism Approved, Smithers, Telkwa, Bulkley Valley accommodation with lake-shore, nature trails and rustic cozy cottages on Round Lake. more |
| | |
| --- | --- |
| | Skeena Cat Skiing: Skeena Cat Skiing offers a truly unique backcountry Cat skiing and boarding experience in BC's world famous powder snow. Located 2.5 hours north of Smithers, BC, We are the only dedicated cat skiing operation in Northern British Columbia! more |


If you would like to have your business listed, please Click Here.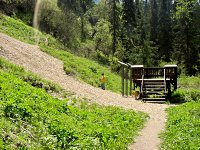 Photo credit to Smithers District Chamber of Commerce
Population: 5,414 (2001 Census)
Main Industries: forestry, tourism, transportation, agriculture
Climate: Summer Average: 21 C • Winter Average: -5 C Average rainfall: January 58mm and July 46mm
Average snowfall: Dec-April 106 cm
Access: Smithers is serviced by commercial air and bus service as well as being on the VIA Rail Line. Highway 16, a well maintained, major highway; can take you west to Prince Rupert or east to Prince George.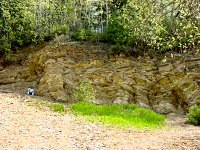 Photo credit to Smithers District Chamber of Commerce
Recreation Facilities & Activities: golf courses, swimming pool; curling & skating rinks; fitness trail; picnic sites; mountain biking; hiking; canoeing; kayaking; rock climbing; rock hounding; cross country & downhill skiing; horseback riding; river rafting; hunting; snowmobiling; waterskiing.
Local Attractions: Smithers Community Forest; Smithers Perimeter Trail; Toboggan Creek Fish Hatchery; Twin Falls & Hudson Bay Glacier; Smithers Art Gallery; Bulkley Valley Museum; wildlife museum; Driftwood Canyon Provincial Park
January - National Ski Week, Cross Country Ski Marathon
February - Telkwa Gold Sled Dog Race, Smithers Winter Festival
March - Snowmobile Hill Climb, Northwest Fiddle Fest
April - Schuss Boomer Downhill Ski Race, Trade Show
May - Golf Tourney
June - Main Street Fair, Midsummer Festival
July - Canada Day Celebrations
August - Fall Fair & Rodeo
September - Men's Golf Open, Telkwa Barbeque
December- Old Timer's Hockey Tournament, Smithers Curling Cash Spiel.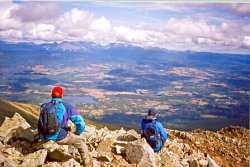 Photo credit to Smithers District Chamber of Commerce
For Information:
Smithers District Chamber of Commerce
PO Box 2379,
Smithers, B.C. V0J 2N0
Telephone: (250) 847-5072
Fax: (250) 847-3337
Toll Free: 1-800-542-6673
Email: info@TourismSmithers.com