This small northern coastal community is on Porcher Island about 42 km (26 mi ) south of the port of Prince Rupert. Oona River's history began when Scandinavian settlers came to homestead this area in the early 1900's. The community's economic base was centred on the resource industries of fishing and logging. There have been 102 boats built in Oona River and there are still boat shops that exist today. The area surrounding Oona River is combined with oceanic waterways, small coastal inlets and islands and its proximity to Skeena River.


Accommodation/Adventure Providers




If you would like to have your business listed, please Click Here.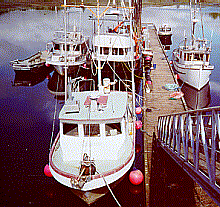 Climate: Summer Average: 15.5 C • Winter Average: -2.2 C
Precipitation: 236.9 cm/yr
Access: By boat or seaplane only.
Recreation Facilities & Activities: Go out fishing for crab, halibut and salmon, eco-touring, kayak trips to coastal inlets and beaches, view the local Salmon enhancement project, exploring, hiking areas and trails.