The Trails of Kokanee Glacier Park
Trails of the BC Kootenays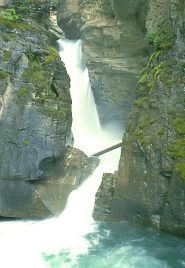 Overview:

The Kootenay region in British Columbia is a quaint and unspoiled part of the province where three different mountain ranges offer spectacular scenery. To the east are the Purcells, while to the west lie the Selkirks and the Monashees. Between these mountain ranges are deep valleys, beautiful fishing lakes, lush green forest and rolling grasslands. Wild animals wander freely and outdoor facilities are everywhere. Many provincial parks and recreation areas have been set aside to preserve this region and these sites are available so everyone can enjoy the Kootenay way of life.

Kootenay summers are warm with a moderate amount of rain, perfect for outdoor recreation. Fishing, hiking, mountain climbing, golfing, mountain biking, canoeing and kayaking are all part of summer fun in this region. Winters are warm and moist, with plenty of snow and great powder skiing. Heli-skiing, cross country and ski-touring are also popular winter pastimes.
If you would like to have your business listed, please Click Here.

This area is rich in history that dates from the 1890's when silver was king. Museums and heritage building offer a glimpse of days gone by. The craft shops and art galleries give us a good look at the present arts and culture that thrives here. Get away from it all with a visit to British Columbia's Kootenay Region.

Hiking Kokanee Glacier Provincial Park and Recreation Area:

Established in 1922, Kokanee Glacier Park is one of the most majestic in B.C. and is loaded with old mining trails that the parks branch keep maintained. These old roads form the nucleus for the 85 km (52.7 mi.) of hiking facilities throughout the park. Trails are well marked and accessible, making for great backcountry hiking adventures for the whole family. This rugged mountain wilderness is in the Slocan Range of the Selkirk Mountains and named after the glacier that sits on Kokanee Peak and the central focus of the park. More than thirty turquoise-blue coloured lakes lie within the boundaries of the park and recreation area, which makes for good fishing.

Facilities:

July, August and September are the best months for hiking in Kokanee Glacier, but freak snowstorms do happen even during the summer months, so be prepared. Camp in the designated areas because the park does not have any developed campgrounds. Dogs are strictly prohibited in Provincial Parks. Use a camp stove for cooking. Never set up your camp near a trail or water. Limited accommodations are available at Silver Spray, Woodbury and Slocan Chief. All three cabins are on a first come, first served basis. A fee is charged when camping or using the cabin facilities. Be prepared to camp outside if the cabins are full. Because of the many porcupines, who like to chew on rubber, surround your vehicle with chicken wire for overnight protection.

Access:

Two main roads, Highway 3A and Highway 31A, and five different access roads act as different trailheads that lead into the central area of Kokanee Glacier Park. Some of these roads are not for low clearance vehicles.

1. From Nelson, take Highway 3A for 19 km (11.7 mi.) to Kokanee Creek and make your way for 16 km (9.9 mi.) to Gibson Lake.
2. From Ainsworth, on Highway 31, head north to Woodbury Creek and follow this road for 13 km ( 8 mi.) to the trailhead.
3. From Kaslo, go northwest on Highway 31A for 6 km (3.7 mi.) to Keen Creek and follow it for 24 km (14.8 mi.) to the Joker Millsite.
4. From Slocan City, on Highway 6, head north for 14 km (9 mi.) to Enterprise Creek, follow it to the trailhead that is 13 km (8 mi.) further.
5. From Slocan, head south of 8 km (5 mi.) to Lemon Creek, follow it for 16 km (9.9 mi.) to the trailhead.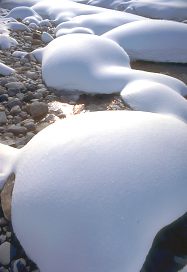 Trails:

Gibson Lake to Slocan Chief Cabin (access number one):

This trail starts at Gibson Lake, going over Kokanee Pass by Kokanee and Kaslo Lakes and approximately four hours away is the cabin. This is a moderate 10 km (6.2 mi.) hike that most can handle. From Gibson Lake, enjoy direct access to Kokanee Glacier by way of the Keyhole trail, which is between Gibson Lake and Kokanee Lake. This is a four to five-hour hike over difficult terrain.

Woodbury Creek to Woodbury Cabin (access number two):
The trailhead starts at the park boundary, follows Woodbury Creek to Woodbury Basin and the cabin. This 9 km (5.5 mi.) hike is rated as moderate and will take about four to five hours. From Woodbury Creek to Silver Spray Creek and cabin is an 8 km (5 mi.) difficult hike of approximately five to six hours. It starts at the park boundary, across Woodbury Creek and climbs to Clove Basin and Silver Spray Cabin. The Woodbury Creek - Sunset Lakes route starts at the park boundary, up Scranton Mine Road to trail and Sunset Lakes. This moderate 3 km (1.8 mi.) hike should take about an hour.

Joker Millsite to Slocan Chief Cabin (access number three):

Starting at Joker Millsite the cabin is a moderate 5 km (3 mi.) hike. Hiking time is approximately three to four hours. During periods in August and September, this trail could be closed because of bears feeding in the area. The trail that leads from Joker Millsite to Joker Lakes is a 5 km (3 mi.) hike that will take about two to three hours. They rate this route as moderate.

Enterprise Creek to Slocan Chief Cabin (access number four):

Starting at the park boundary, this trail goes to Tanal Lake over Enterprise Pass to Kaslo Lake and finally Slocan Chief Cabin. From the boundary to the cabin it is about 10 km (6.2 mi.) and will take about five to six hours of hiking this moderate trail. To reach Blue Grouse Basin over Paupo Creek, the trail starts at Enterprise Creek and is a moderate four to five-hour hike that is 6 km ( 3.7 mi.) in length.

Lemon Creek to Slocan Chief Cabin (access number five):

This unmaintained trail from the park boundary follows Lemon Creek to Sapphire Lakes, then to Lemon Pass, by Kaslo Lake and finally to Slocan Chief Cabin. The first leg of this hike is 10 km (6.2 mi.) that leads from the trailhead to Sapphire Lakes. They rate this section as difficult and will take from five to six hours to hike. At the east end of the lake, there is a food cache and toilet. From Sapphire Lakes to Slocan Chief cabin it is a moderate 4.5 km (2.7 mi.) trek. Suggested hiking time is from two to three hours.

No matter which of these trails you hike, remember Kokanee Glacier Provincial Park and Recreation Area is considered wilderness and is backcountry hiking. This means staying on the trails, camping in designated areas, packing out all your garbage and never taking any items from the park. Always practice backcountry ethics and never, ever feed the wild animals. When hiking in bear country, always make noise, do not bury refuse as this will attract wild animals. Store food by hanging it from a tree, use food storage containers, and never keep food in the tent. Always be on the look out for bear signs. Hike in a group. This will reduce the risk of animals attacking and hikers getting lost. Children should not be allowed to wander and remember, leave your dog at home. When hiking in the wilds of British Columbia always be careful. Be safe, have fun!
---
For more information contact:
B.C. Parks
Site 8, Comp.5, R.R.#3
Nelson, B.C. V1L 5P6
Telephone: (250) 825-3500
Fax: (250) 825-9509
---