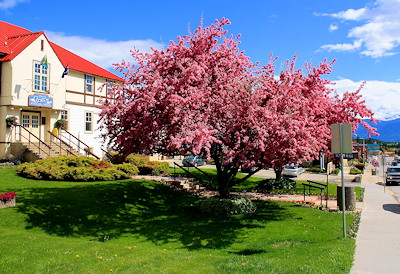 Image courtesy of Creston Valley Tourism Development
Creston, BC
"Garden Capital of the Kootenay's"
Creston overlooks a broad, fertile valley where the Kootenay River meanders between the Selkirk and Purcell mountains and comes home to Kootenay Lake. About 12,000 ha. have been reclaimed by a series of protective dikes. This diking system and a climate that features mild winters and a warm summers with some of the country's most fertile soil, contributes to a diverse agricultural industry. Here, agriculture plays a main role in sustaining this Valley from asparagus to cherries, peaches to squash, the Creston Valley produces it all and makes it available to all those who stop to savour the cornucopia of fruits and vegetables. Canola, wheat, barley and hay as well as corn for silage, cover the valley flats.
Creston's history is based on agriculture. Grain, beef, dairy and even bison operations dot the Creston Valley flats. Visitors can experience firsthand the benefits of, not the 100 mile diet but a 10-mile diet throughout the Creston Valley. Many fruit and vegetable markets are along Highway 3 east of Creston with many u-pick operations throughout the valley.
The Creston Valley Wildlife Management Area designated a RAMSAR site is home to over 270 species of birds, mammals, fish & reptiles in 17,000 acres of preserved wetlands, complete with viewing towers, boardwalk, endless walking trails and guided canoe tours. The Creston Valley is in the midst of the main migratory waterfowl migration routes.
Accommodation/Adventure Providers
| | |
| --- | --- |
| | See The Rockies: Travel Guide to the Canadian Rockies. Map driving routes, explore Canada's Rocky Mountain National Parks, including Banff and jasper. Book lodging at hotels, resorts, guest ranches, and lodges. Plan sightseeing tours, outdoor adventures and more! more |
If you would like to have your business listed, please
Click Here.
Population:
4,826 (2006 census figures)
Main Industries: farming, fruit orchards, logging, mining, construction, manufacturing.
Elevation: 611 m. (2,005 ft.)
Access: Reach Creston on Highway 3, east of Salmo and west of Cranbrook. Highway 3A, south of Kootenay Bay, intersects with Highway 3 at Creston town limits. 49 km from the U.S. border on Highway 21, a part of the International Selkirk Loop. Greyhound Bus Services the community along with commercial flights 110 km from Cranbrook and Castlegar International airports, 234 km (3 hrs) to Spokane International Airport.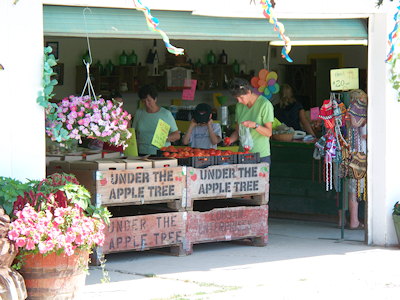 Image courtesy of Creston Valley Tourism Development
Recreation Facilities & Activities: Modern Community Complex with indoor pools, running track, hockey arena and curling rink. Nearby golf course, fishing hunting, hiking, cross-country skiing, bird-watching, farm tours including a winery & bistro, fromagerie (organic cheese factory), orchards, u-pick cherry, strawberry, raspberry & blueberry farms. Numerous artist galleries and businesses displaying local art are open for viewing.
Local Attractions: Creston Valley Wildlife Management Area, Creston Golf Course, Columbia Brewery, Kootenay Candle Factory, Creston Valley Museum & Archives, Downtown Murals, Spray Park.
May - Blossom Festival, Yakan Nukiy Powwow, Demolition Derby, Square Dance Festival.
June - Creston Saturday Market, Creston Valley & Eastshore Art Walk/Drive.
July - Goat Style Bike Festival, Creston Valley Music Fest.
August - Old Fashioned Tea, Shakespeare in the Park.
September - Gray Creek Sailing Regatta, Creston Valley Fall Fair, Annual Museum Quilt Show & Sale, Blue Heron Half-Marathon & 10K Run.
Accommodations: The traveller can choose from motel/hotel/bed & breakfast in town and surrounding area. A number of campground/RV parks are located in and close to town.
For Information:
Creston Valley Chamber of Commerce
& Visitor Info Centre
121 NW Boulevard, Box 268, Creston, BC V0B 1G0
Phone: Toll Free 1-(866)-528-4342 or (250) 428-4342
Fax: (250) 428-9411
www.crestonchamber.com
Email: info@crestonvalleychamber.com
Creston Valley Tourism Development
Phone: Toll Free 1-(866)-528-4342 or (250) 428-4342
Fax: (250) 428-9411
www.experiencecreston.com
Email: manager@crestonvalleychamber.com