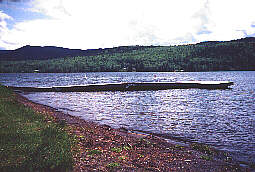 Resorts & Campsites: There are resorts on Horsefly Lake, as well as Horsefly Lake Provincial Park with campsites, picnic area and boat launch. Facilities are also available in the community of Horsefly.

BC Adventure Network members serving this area:


If you would like to have your business listed, please Click Here.

Fishing Report: Besides Kokanee and Dolly Varden, Horsefly Lake contains wild stock Rainbow Trout to 12 lbs. 15 lb and better Lake Trout are taken regularly. Trolling is the most common method, however, spinning gear and fly fishing near the mouth of creeks works well.

Be sure to visit Fishbc.com for angling information!

Viewscape: This large, beautiful clear lake is situated in mountainous British Columbia terrain, heavily forested with conifers. Rocky bluffs and gravel beaches are found around the lake. Camping, fishing, swimming and waterskiing all add up to a great family vacation.

Shoreline: Varied.

Nearby Lakes: See Klinne, Abbott and Quesnel Lake

Note: Always check your current British Columbia Fishing regulations before you start fishing a new lake.