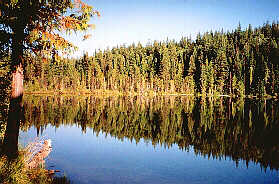 Resorts & Campsites: Klinne Lake has a small, fully treed, Forest Service Recreation Site with campsites with limited access to the lake, although cartoppers can be launched. Three other small campsites are nearby.

BC Adventure Network members serving this area:


If you would like to have your business listed, please Click Here.

Fishing Report: Klinne Lake is a spring-fed lake that can produce rainbows averaging two pounds and more. For flyfishing only, while motors aren't prohibited, their use is discouraged.

Be sure to visit Fishbc.com for angling information!

Viewscape: The hilly area surrounding the Klinne Lake is covered by a mixed forest of spruce, cedar, Douglas fir and poplar with thick undergrowth in areas.

Shoreline: Gravelly shoreline with grasses, deciduous shrubs with spruce and cedar in evidence.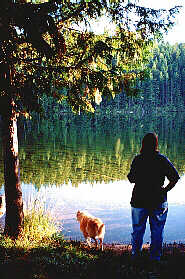 Nearby Lakes
Jacques Lake: Just south of Klinne Lake, Jacques Lake is a 3 km (1.86 mi) long lake contains wild stock rainbows averaging less than a pound, but often reaching up to five pounds. Fly fishing, spinning and trolling are popular on Jacques Lake. There are Forest Service campsites at the east end where cartoppers can be launched.
Keno Lake: Southwest of Klinne Lake, Keno Lake provides similar fishing to Jacques, with small Forest Service campsites available. Photo 1 and Photo 2.
Hen Ingram Lake: Hen Ingram Lake is located approximately 9 km (5.58 mi) east of Klinne Lake. Access can be difficult in wet weather, otherwise the road is good. Although the average rainbow is about one pound, eight pounders are not uncommon in Hen Ingram Lake. Flies, spinning or trolled gear are popular. There is a BC Forest Service Recreation Site at Hen Ingram Lake.
Note: Always check your current BC Fishing regulations before you start fishing a new lake.