Cruising the North Coast of British Columbia


---
Finlayson Channel to Douglas Channel:

The Inside Passage continues across Mathieson Channel, through Perceval Narrows and into Finlayson Channel. The next supply centre is Klemtu where you can stock up on gasoline, diesel fuel, lubricants, and water. Klemtu has a store, cafe and post office. Mary Cove across the channel from Klemtu offers some protection and anchorage for small crafts. Make your way up Tolmie Channel, Graham Reach and Fraser Reach, where the north coast main land is on one side and Prince Royal Island on the other. This is a pleasant area with many waterfalls cascading into the deep waters. Both reaches are straight and wide, meeting cruise ships and other large vessels is an everyday occurrence in this region. Butedale in Fraser Reach offers protection and anchorage. This once thriving cannery has fuel and primitive dorm camping. When you reach Angler Cove, you can take Ursula Channel, Devastation Channel or Sue Channel into Douglas Channel. Continue going north and by-pass Douglas Channel, by way of McKay Reach, Wright Sound and into Grenville Channel.

Douglas Channel:

The side trip into Douglas Channel is well worth your time. Soak in the hot springs and visit the city of Kitimat at the head of the channel. The Gardner Canal that branches from the Douglas Channel leads to Kitlope and the Kitlope Valley. Enjoy the tranquility of the Kitlope Valley and the Haisla People. This protected valley is known as the world's largest undeveloped coastal temperate rain forest.

In Ursula Channel, are Bishop Bay and the Hot Springs. This is a very popular stopping spot and the wear and tear on the environment is showing. Weewanie Hot Springs, in Devastation Channel are not as developed as Bishop Hot Springs, but a great place with moorage at the two buoys in the cove. Coghlan Anchorage, between Douglas Channel and Wright Channel is well used by pleasure crafts and fishing boats.

Grenville Channel:

This 72 km (45 mi.) channel looks like the classic fjord It is narrow and the snow-covered mountains seem to start in the water and reach for the sky. To see waterfalls cascading for hundreds of feet down the mountains is a sight you will never forget. Grenville Channel can become crowded with ferry boats, cruise ships, fishing boats and pleasure crafts, always be alert and careful. Many places in Grenville Sound have sheltered anchorage. Popular with most pleasure boaters is Lowe Inlet and Nettle Basin. This is a pleasant place to spend time and stretch your sea legs. Hike to Lowe Lake and photo opportunities of Verney Falls at low tide. Next is East Inlet, with plenty of room and protection for small pleasure crafts. Kumealon Island and Kumealon Inlet offer good anchorage with shelter from the chop and winds. To avoid the waters flowing in from the Skeena River, take Arthur Passage where Lawson Harbour and Kelp Passage provide anchorage. Approaching Chatham Sound, waters can become choppy, due to the Skeena River, preplan your trip before crossing this stretch of open water.

Chatham Sound and Prince Rupert:

The currents can be strong and waters choppy in Chatham Sound. If uncertain about crossing the sound, call the Prince Rupert Coast Guard for weather conditions. Should there be any reservations about nasty conditions turn back and find temporary shelter.

The city of Prince Rupert, on Kaien Island, has the third deepest natural harbour in the world and is BC's northern port for the exporting of grain, coal, lumber, pulp, minerals and fish. Prince Rupert is served by air, road and rail and has facilities for all types of pleasure and commercial crafts. This is your first port of entry heading south from Alaska and Canadian Customs is open twenty-four hours a day for clearance. There are two moorage facilities, one is the Prince Rupert Rowing and Yacht Club in Cow Bay, the other is the public floats at Rushbrooke. Spend a few days here by taking in the sights and learning about the history and culture of the area. Visit the Museum of Northern British Columbia and the Mariners Memorial Park both are very interesting and entertaining. Stock up on necessary groceries, fuel, water and boat parts. Enjoy eating out and take in the night life that makes Prince Rupert a special place to visit.

North to Alaska:

Portland Canal, north of Prince Rupert, serves as the border between Canada and the United States. If heading north beyond this point, non US residents must have permission to stop or anchor in US waters. The distance between Prince Rupert and Ketchikan is 137 km (85 mi.) and can be a hard trip to make in one day, telephone Ketchikan Customers for permission to make anchorage along the way.

Pleasure crafts reentering Chatham Sound often do so by way of Metlakatla Passage (Venn Passage). Near or ahead of high water out of Prince Rupert means favourable current to Green Island. On the island is an important weather station you should monitor when crossing Dixon Entrance. Whether heading north or south Brundige Inlet on Dundas Island offers needed protection and good anchorage. Take care when crossing Dixon Entrance, it is open water that can be nasty and demanding. Monitor both US and Canadian weather forecasts and depart early in the morning. This is American water.

Portland Inlet and Portland Canal (Stewart and Hyder):

A longer but more scenic and a smoother route is to stay close to the mainland coast where the coves, bays and inlet offer shelter and anchorage. You might want to put in at Pearl Harbour or Port Simpson before crossing Portland Inlet and into Tongass Passage. Cruising up the Portland Inlet takes you by the Nass River entrance, into Observatory Inlet, up Alice Arms and into Hastings Arm. Along the way there are spots that offer shelter and good anchorage such as Kumeon Bay and Somerville Bay. Khutzeymateen Inlet is very scenic and deep. This area is home to the largest concentration of grizzly bears along the BC coast and is a designated sanctuary. To view the bears, you must take an authorized guide service. At the mouth of the Nass River is Kincolith, Mill Bay, Iceberg Bay, Nass Harbour and Echo Cove, where there is limited anchorage and protection from Portland Inlet. Observatory Inlet takes you to Eagle Cove, Perry Cove, Alice Arm Settlement, Hastings Arm and the abandoned mining community of Anyox.


---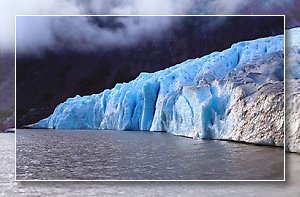 Bear Glacier, Stewart
---
Portland Canal:

This is a long and narrow canal that goes to Stewart BC and Hyder Alaska. The sides are steep and rugged. Places to stop and enjoy as you head into Portland Canal are Whiskey Bay, Reef Island, Halibut Bay, Maple Bay, Hideaway Lodge, Fords Cove, and Glacier Bay. Stewart is a small settlement that has a hospital, doctor, RCMP, a pharmacy, liquor store, post office, several stores and hotels, craft shops and airfield. Anchorage and mooring are available at the public wharf or at the Stewart Yacht Club.

Hyder in Alaska has two floats. The settlement advertises itself as the friendliest ghost town in Alaska. Hyder connects to Stewart by road and a paved highway to Prince Rupert and Prince George. Portland Inlet and Portland Canal both have excellent fishing and crabbing.

You are now in American waters and on your way to Ketchikan. Rest spots and sheltered anchorages along this route include Gilanta Rocks, Foggy Bay, Kah Shakes Cove, Bullhead Cove, Mary Island Anchorage, Ham Island Bight, Hassler Harbour and finally Ketchikan.

The Inside Passage continues north from Ketchiakn to Wrangell, St. Petersburg, Juneau and onto Haines and Skagway. Exploring and cruising the Inside Passage takes time. It can be grueling and challenging, but an unforgettable experience. Be prepared for all types of weather and ocean conditions. The warm and sunny days offer scenery that is breath taking and unbelievable. When rain and fog set in, find a well-protected anchor spot and wait it out, not even bad weather lasts forever in this remote part of the world. Along the way, take time out to meet the locals and learn about their history and culture. Whether you make it all the way or only part of the way, always remember that safety comes first. Enjoy your Inside Passage cruise. Be safe, have fun!

Queen Charlotte Islands:

The Queen Charlotte Islands is a boating experience that can be challenging and rewarding. The I50 islands are an archipelago across Hecate Strait from the mainland of British Columbia. Queen Charlotte Islands have a very diverse ecosystem. One of the best remaining old-growth rain forests is here, and the islands have an extreme amount of sea birds, eagles and falcons. A cruise to Gwaii Haanas/South Moresby National Park Reserve offers exceptional scenery and quiet beauty that is mystical. Enjoy misty inlets, mountains with snow-covered peaks that reach for the sky, abandoned Haida village sites, and rugged wilderness.

Hecate Strait:

This strait separates Queen Charlotte Islands from the mainland. Never take the crossing lightly. The most direct route is from Browning Entrance. Monitor the weather forecasts and when seas are calm be prepared to leave early in the morning. Wait for favourable weather at Larsen Harbour or at Beaver Passage. Make sure your boat is sea worthy and you can be self sufficient when cruising the Queen Charlotte Islands.

Graham Island:

Skidegate is where BC Ferries dock and where there is a small public float and moorage facilities for pleasure crafts. Farther into Skidegate Inlet is Queen Charlotte City, the administrative hub for the Queen Charlottes. The town has needed facilities such as fuel, grocery supplies, post office, car rentals, RCMP Office, and guided tour services. Lina Island and Kanga Bay both offer sheltered anchorage.

Gwaii Haanas/ South Moresby National Park:

You must have permission to visit Gwaii Haanas. Boats and their crews must make reservations and complete an orientation course in Queen Charlotte City before cruising this section. After leaving Skidegate Inlet, Beattie Anchorage on Louise Island in Cumshewa Inlet offers safe anchorage. Gordon Cove has a public mooring buoy and float. Trotter Bay and Cecil Cove have some protected anchoring. Your last spot for emergency communications and transportation connection is Pacofi Bay, and Thurston Harbour has excellent public buoys that offer good safe anchorage.

You are now cruising in Gwaii Haanas/ South Moresby National Park. Find protection and good anchorage on Moresby Island at places such as Crescent Inlet, Anna Inlet and Echo Harbour. Stock up on fresh water at Hoya Passage Cove. Tie to a float and stay overnight or for a couple of days. A very interesting and enjoyable place to visit is Hotspring Island. Anchor your craft between Hotspring and House Islands or at Ramsay Passage Cove. Haswell Bay is sheltered from all weather and by cruising deep into the bay, anchorage is excellent. Heading south along South Moresby there is anchorage and protection at Hutton Island Cove, Matheson Inlet, Section Cove, Skaat Harbour, Bag Harbour, Slim Inlet, and Jedway Bay. Continue your boating trip by way of Houston Stewart Channel, which is the protected route between Moresby and Kunghit Islands. Protected Rose Harbour is a good place to stay when visiting Anthony Island.

Anthony Island and Ninstints (Sgan Gwaii):

The creme de la creme for boating this part of British Columbia is Anthony Island (Sgan Gwaii) and the abandoned Ninstints village. UNESCO has designated this a World Heritage Site. When visiting here, walk carefully, stay on the paths, do not touch or remove any items from this site. Anthony Island Cove has room for a few small crafts on the east shoreline and more anchorage room is available in the northeast corner of the bight. Enjoy boating in British Columbia. Be safe, have fun!