Northern BC's Peace River Valley
---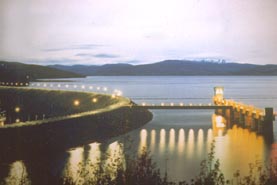 W.A.C. Bennett Dam
Photo courtesy of Northern BC Tourism
Like much of Northwestern Canada, BC's Peace River country owes its early notoriety to fur traders, gold seekers and several thousand World War II soldiers. History books describe the creation of the Alaska Highway as one of man's greatest feats of human determination and ingenuity. Its construction by the military in 1942 not only opened commerce to the communities of Canada's far north, but encouraged hardy travellers to seek out new opportunities at the foot of the Alaska Highway, in the rugged outback of the Peace River Valley.
These days, travelling to Northern BC does not require the grit and ingenuity of olden days. The roads are paved, there are roadside restaurants that serve hot meals, and mechanics where there once were none. RV'ers will find an increasing number of campgrounds with electrical hookups and other specialized amenities. Campers can choose from as many as 20 camping areas - not counting those enticing wayside stops that make "roughing it" a preferred way of travel.
Travellers should keep in mind that while the "remoteness" of Northern BC is inviting, it also demands an extra amount of pre- planning. Come prepared for those long stretches of road without amenities. Check your gas and know your vehicle. Subscribe an emergency roadside service and if possible, carry a cell phone or alternative communications system.
These are common-sense practices that are useful in any travel situation and will make your vacations in BC's northern areas more comfortable and "stress-free".
---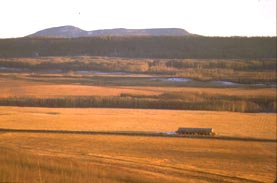 Chetwynd countryside
Photo courtesy of Wayne Sawchuk
The Peace River area offers its own mini "circle tour" that is accessible from Prince George. The route takes you through some of the provinces more pristine countryside, past towns that were forged with the introduction of the Alaska Highway and through numerous fishing and camping areas. It is an easy route for short jaunts to nearby attractions. Travellers carrying on to the Yukon or Alaska can also connect with the Alaska Highway from this route.
Situated 786 km/487 miles from Vancouver at the intersection of Highway 97 (the Alaska Highway) and Highway 16 (the Yellowhead Highway), Prince George is accessible by any number of directions and modes of travel. If you are coming from Vancouver, you can pick up Highway 97 in the small town of Cache Creek, the intersection to Highway 1 (the TransCanada, which you can join in Vancouver) and Highway 97. You can also reach Prince George from the Alberta-British Columbia border via the Highway 16. If you plan to take BC Ferries Inside Passage to Prince Rupert, you can reach Prince George by rail, plane or by car via Highway 16.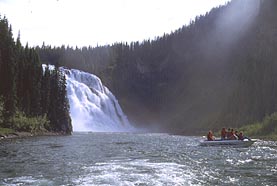 Tumbler Ridge, BC
Photo courtesy of Photographic Options
Highway 97 north from Prince George to Mackenzie takes you past several provincial parks and a tempting number of good fishing areas. Forest Service recreation sites dot the Crooked River area, a bastion for char, rainbow trout, arctic grayling and other species of fish. Summit Lake, Bear Lake and Hart Lake are within easy distance from the Crooked River Provincial Park, 70 km/43 miles north of Prince George.
The town of Mackenzie (190 km/118 miles north of Prince George) can be reached by taking Highway 97 north to the turnoff for Highway 39, a short distance from Mackenzie. Northwest of Mackenzie is Williston Lake and the villages of Germansen Landing and Manson Creek. Self-equipped travellers will find an unlimited number of gravel roads and camping areas to explore.
Chetwynd is at the crossroads of Highways 97 and 29, 310km/193 miles northeast of Prince George. The road takes you over Pine Pass and presents you with spectacular views of the Rocky Mountains and Azouetta Lake. Chetwynd has a municipal campground with 15 basic sites, a tennis court and a sani-station.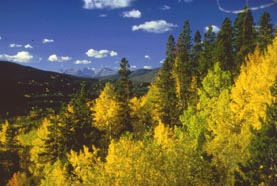 Tumbler Ridge, BC
Photo courtesy of Northern BC Tourism
Highway 29 south from Chetwynd leads you to the community of Tumbler Ridge 105 km/65 miles). Established less than 20 years ago, it services the coal mining industry in the Rocky Mountains. The trails around Monkman Provincial Park (60 km/37 miles south by gravel road) provide off-road enjoyment for snowmobilers and skiers in the winter and mountain bikers and hikers in the summer. Kiuseo Falls are a well-known attraction at Monkman.
BC Adventure Members serving this area:
Monkman Expeditions - Join us for world-class hiking, canoeing, and river boating adventure expeditions in the Monkman Pass region of BC's Peace River. You'll experience the untouched wilderness of the Rocky Mountains in Monkman Provincial Park and area -- a place like no other.
64 km/40 miles north of Chetwynd on Highway 29, is Hudson's Hope and the site of the W.A.C. Bennett Dam, one of the largest hydro systems of its kind in North America. The museum in Hudson's Hope features fossils that date back more than 11 thousand years and give evidence to why this area is commonly called "the land of dinosaurs and dams."
---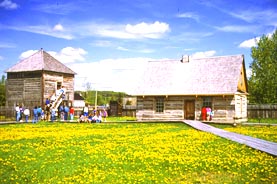 Fort St. James National Historic Site.
Photo courtesy of Northern BC Tourism
Fort St. John (88 km/55 miles) was established in 1794 as a trading post, when its population consisted of 12 men, 4 women and 5 children. Now the largest city on BC's Alaska Highway, it is a golf course mecca of the Peace River Valley.
At Fort St. John, your route returns to Highway 97, turning south to Dawson Creek (75 km/47 miles). This farming area is known for its honey and produce, which is featured at the town's farmer's market each Saturday, May through September.
Dawson Creek (not to be confused with Dawson City) is also known as "Mile O" of the Alaska Highway. World War II had a decisive effect on this town, whose population grew from 600 to 10,000 in 1942. A visit to the "Mile 0" cairn is a must as is a walking tour of the town's unusual museums and heritage sites.
Travellers will also enjoy several attractions in the area, including the Gold Panning Championship in August, near Taylor. The Dawson Creek Stampede, also in August, is legendary, as is its World Class Chuckwagon Racing. Contact one of the information centres listed below for further information.
From Dawson Creek travellers have a number of routes to choose from. You can complete your loop back to Prince George via Highway 97, or head to Tumbler Ridge via Highway 29. Or you can carry on to Alberta's famed Jasper National Park, the subject of next month's article.
See you then!