Garibaldi Provincial Park Hiking Trails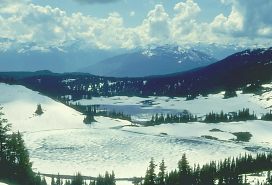 Overview:

Garibaldi is the most used wilderness park in British Columbia. It became a provincial park in 1920, and has never failed to draw visitors from near and far. This magnificent mountain park, is only an hour and a half north of Vancouver on Highway 99. The 195,080 hectares (480,000 acres) within the park boundaries feature alpine meadows, remote fishing lakes, glaciers and volcanic mountain peaks. Diamond Head, Black Tusk and Cheakamus Lake are the three different areas that cater to visitors. During the summer months Garibaldi Provincial Park is a backpackers haven, with short day hikes and lengthy difficult hiking trails. Come winter, cross country skiing becomes the big activity in the region, with countless trails, zigzagging the park. It is a magic place no matter what the season, and one visit is not enough. Garibaldi keeps calling you back time and again.

Grizzly bears, black bears, mountain goats and deer wander freely in the park, but are seldom seen. Marmots, squirrels, chipmunks and the Canada jays are all frequent visitors at the many campsites. Rainbow trout is found in most lakes, streams and rivers.

Below the elevation of 1,500 metres (4,920 feet) western hemlock, Douglas fir and western red cedar provide a cover. Higher up alpine fir, white bark pine, mountain hemlock and yellow cedar grow in small clusters. Growing in the alpine regions is heather and many colourful wild flowers.

If you would like to have your business listed, please Click Here.

Access:

All popular areas in Garibaldi Provincial Park can be easily reached from Highway 99, between Squamish and Whistler. Just watch for the signs that lead to the parking lots and access to the trails.

Diamond Head:

Located in the southwestern portion of the park, Diamond Head is the host to such wonders as Mount Garibaldi, the Opal Cone, Garibaldi Neve and Mamquam Lake. Extensive hiking, mountain biking and cross country skiing trails lead to these natural wonders. To reach Diamond Head, turn off Highway 99 onto Mamquam Road north of Squamish. It is 16 km (9.9 mi.) from the highway to the parking lot. The lookout before the parking lot provides a panoramic view of the Squamish Valley and Howe Sound.

Parking Lot to Elfin Lakes:
This trail follows Paul Ridge and is 11 km (8.8 mi.) in length that will take from three to five hours of hiking time one way. On reaching the lakes, the scenery is superb with Columnar Peak, the Gargoyles, Opal Cone and Mamquam Icefield all within view. Elfin Lakes features an overnight shelter that has thirty-four bunks, a propane and wood heating stove. A per person, per night fee is charged for this facility. This is a good place to make your camping headquarters and enjoy hiking the trails that lead from here. They allow mountain bikes from the parking lot to Elfin Lakes.

Elfin Lakes to Little Diamond Head goes past the Gargoyles. This is a hard, steep hike that takes from two to three hours one way and is 7 km (4.3 mi.) in length.

Elfin Lakes to the Opal Cone is a 6.5 km (4 mi.) hike of two to three hours one way. From the top both Garibaldi Neve and Mamquam Lake are visible.

Elfin Lakes to Mamquam Lake is a strenuous hike that heads past Opal Cone and continues to Rampart Ponds and the lake. This hike of 11 km (6.8 mi.) takes half a day one way.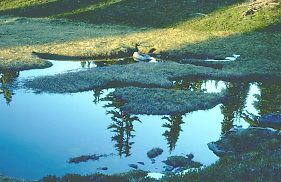 Black Tusk/Garibaldi Lake:

Mountain Climbers and hikers are drawn to this area of natural beauty. The attractions include Black Tusk, Panorama Ridge, Garibaldi Lake, Castle Towers, the Barrier, Helm, Sentinel and Sphinx Glaciers. Access to this very scenic region is at Rubble Creek parking lot, off Highway 99. It is found 37 km (22.9 mi.) north of Squamish or 19 km (11.7 mi.) south of Whistler. Camping in this area is restricted to two designated sites. They are at Taylor Meadows and the west end of Garibaldi Lake. Both areas feature cleared tent spaces and pit toilets. Bring your own stove for cooking and all garbage must be carried out of the park. During the summer there is a camping fee. Make your headquarters at either campsite and hike the surrounding area.

Rubble Creek Parking Lot to Garibaldi Lake:
This graded trail is 9 km (5.5 mi.) and should take three to four hours one way. Make your way up the trail through Douglas fir and red cedar to the top of the Barrier. The Barrier holds back Barrier, Lesser Garibaldi and Garibaldi Lakes.

Rubble Lake Parking Lot to Taylor Meadows:
Follow the same trail as to Garibaldi Lake for 6 km (3.7 mi.), from this point take the trail that leads up to the meadows. The full hike is 7.5 km (4.6 mi.) and suggested hiking time is three to four hours. Hike from the Rubble Creek parking lot to the meadows, to Garibaldi Lake and back in one day. It is a long hike of 22 km (13.6 mi.) and will take a full day.

Garibaldi Lake to Panorama Ridge:
This moderately difficult hike of 5 km (3 mi.) will take two hours one way. The hike offers views of Garibaldi Lake, both the Sphinx and Sentinel Glaciers, Table Mountain and much of the park. Both Taylor Meadows and Black Tusk Meadows also have trails that lead to Panorama Ridge.

Taylor Meadows or Garibaldi Lake to Black Tusk:
The trail is 7 km (4.3 mi.) in length and can be hiked in two to three hours and ends below Black Tusk. Experienced and properly equipped climbers should only attempt to climb the Tusk. Beware of falling rocks when climbing the chimney.

Taylor Meadows to Upper Lake:
An easy 4 km (2.5 mi.) hike that leads past Mimulus and Black Tusk Lakes and onto Helm Lake. Helm Glacier and the Cinder Cone can be seen from this vantage point. Hiking time is about two hours one way.

Cheakamus Lake:

Cheakamus is a glacier fed lake, surrounded by mountains towering to 1,600 metres (5,248 feet). Fishing for rainbow trout and Dolly Varden is excellent in this lake. Primitive camping areas are found at the west end of Cheakamus Lake and Singing Creek. The camping at Castle Tower Creek can only be reached by boat. Be completely self reliant if planning to camp at one of these sites. They permit mountain biking on the trail as far as Singing Creek but, they do not allow them on the cable car. Access to this area is 48 km (29.8 mi.) north of Squamish or 2.5 km (1.6 mi.) south of Whistler, turn east off Highway 99 onto a logging road. The parking lot is 8.5 km (5.3 mi.) from the highway.

Parking Lot to Cheakamus Lake:
This is an easy one hour hiking trail of 3 km (1.9 mi.). Portage a kayak or canoe on this trail and take full advantage of fishing Cheakamus Lake.

Cheakamus Lake to Black Tusk Meadows:
Hike length is 14.5 km (8.9 mi.) and will take from six to seven hours one way. About half way along the Cheakamus Lake trail, drop down to the Cheakamus River. The river crossing is done by cable car that takes at least two adults to operate. Once across the river, the trail goes up by way of switchbacks. Continue by following Helm Creek to the Upper lakes and Black Tusk Meadows.

Other hiking areas in Garibaldi Provincial Park are to Singing Pass, Russet and Wedgemount Lakes. To help maintain and preserve the wilderness, keep to the designated trails. Short cuts destroy plants and cause soil erosion. Never pick or damage any of the plant life and please do not take any items from the park.

When hiking wilderness areas in British Columbia, reduce your impact on the environment. Obey laws and adhering to the wilderness code of ethics. Whatever is packed in, must be packed out. Respect all wildlife, the wilderness is their home, we are only visitors. Be safe, have fun!
---
For more information contact:
BC Parks
P.O. Box 220
Brackendale, B.C. V0N 1H0
Telephone: (604) 898-3678
Fax: (604) 898-4171