Osoyoos to Peachland
Osoyoos:
The name sooyoos means a shallow ford in Okanagan Indian dialect. This town is located on Lake Osoyoos near a narrow spit of land which nearly cuts this warm lake in two. The mild climate in this area allows for an excellent fruit harvest including cherries, apples and even bananas. Osoyoos is located 4 km (2.5 miles) from the Canada/USA border.
Continue on Hwy.97 from Osoyoos to Oliver, Okanagan Falls and onto Penticton. While traveling in this region stop to enjoy a wine tour, excellent views and sandy beaches.
Penticton:
Penticton (1909) is situated on a delta between Skaha and Okanagan Lakes. The warm, dry and sunny climate makes enjoying the beaches or floating down the Okanagan River Channel a pleasure. Festivals and events are plentiful here in Pen-Tak-Tin, a Salish word meaning "a place to stay forever".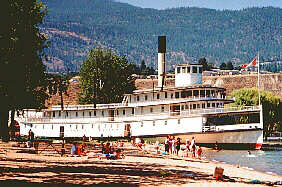 S.S. Sicamous:
This now restored 72m sternwheeler once journeyed the waters from Penticton to Vernon. It is located on Okanagan Lake at the end of Lakeshore Drive.
Penticton Museum and Archives:
Exhibits displaying military memorabilia, Indian and pioneer artifacts may be viewed at 785 Main Street.
Summerland:
This area produces a large amount of the valley's fruit, second only to Kelowna. Walking tours of heritage buildings (1902) are available.
Giants Head Park:
This grand lookout is situated in the core of an extinct volcano and provides exceptional views of the valley. The park is located in the centre of Summerland past the Summerland Tourist Information Centre. Turn on Rosedale the left at the Prarie Valley Road, staying right up Giant's Head Road to Milne Road. Ornamental Gates mark the entrance.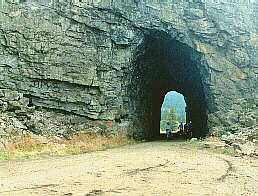 Federal Agricultural Research Station:
Located south of the Trout Creek Bridge on Highway 97, the research station is worth a visit.

Above this station are 15 acres of Ornamental Gardens, with a beautiful array of shrubs, trees and flowers. A path leads along the Trout Creek Canyon to the Kettle Valley Train Trestle, which is the longest and highest of its type in North America and offers an amazing view of the canyon. A 1920's English style cottage houses an interpretive centre and agricultural and horticultural histories. Access to the gardens are a half a kilometer south of Trout Creek on Highway 97.

Peachland:
From Summerland you will travel north to Peachland, a small town on the lake's sandy shores and surrounded by orchards and ponderosa pine forests.

Peachland Museum:
Housed in what was once a Baptist Church (1910), this impressive 8-sided wooden structure displays exhibits of orchard development and photos. It is located on Beach Avenue.

Just north of Peachland is Highway 97C, the Okanagan Connector from Merritt. The Connector is the extension of the freeway from the Lower Mainland, know as the Coquihalla Hwy. Continuing on Highway 97 you will travel through westbank and on to Kelowna.

The following BC Adventure members would like to serve you: