Merritt
British Columbia
Part of the BC Adventure Network. Over a million web site visitors annually !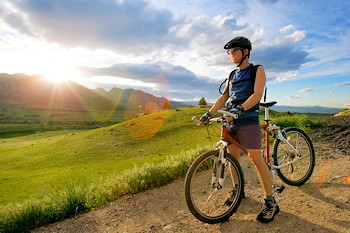 Mountain biking is a great way to explore the area.
Merritt, BC
Merritt and the Nicola Valley exposes the traveller to the soft, wind-stirred beauty of thriving ranchlands. The valley offers sharp contrasts; from green fields or sagebrush-studded hillsides to rich marshes teeming with birds.
---
All images courtesy of Tourism Merritt & Pinerock Ridge Graphic Art & Design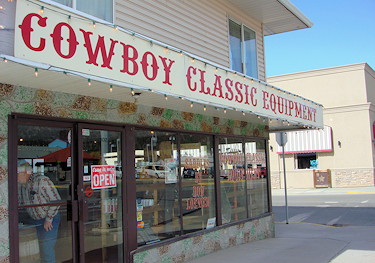 Our ranching heritage is alive & well.
This area of BC was first settled by ranchers who recognized the potential for a productive cattle industry; the area contains the Douglas Lake Cattle Ranch, one of the largest working cattle ranches in North America.
Merritt replaced Nicola to become the central service community in the area to serve the local coal mines and area ranches.
Merritt is also at the junction of four major highways serving British Colmbia's Thompson Nicola region. The entire area is rich in displays of its ranching heritage but also provides a number of opportunities to outdoor enthusiasts; Merritt is specially famous for its fishing lakes.
Accommodation/Adventure Providers
If you would like to have your business listed, please
Click Here.
Accommodations: Guest ranches, many of them actual working ranches, are a popular destination for visitors. For those not interested in the "ranching life", there are a number of motels and campsites/RV parks in the area.
Access: Merritt, British Columbia, is easily accessed from the south via the Coquihalla Highway or by turning east of Highway 1 at Spences Bridge. From the north, it is 87km (52 mi.) south of Kamloops, BC, on the Coquihalla Highway. From either direction you pass through vast differences in scenery; from towering, craggy mountain peaks, heavily forested hillsides to rolling, grassy or desert like areas. A haven for the avid photographer or sightseer.
Recreation Facilities & Activities: Fishing; working guest ranches; Merritt golf course; wildlife watching.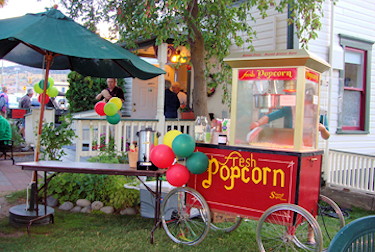 Historic Baillie House
Local Attractions: Historic courthouse (in Nicola); Historic Baillie House; Douglas Lake Ranch (one of the largest working cattle ranches in North America); craft stores; Merritt rodeo; Merritt Mountain Music Festival (July); Merritt Walk of Stars & Country Music Artists Murals; Quintette Tunnels (carved from rock for the railway); Harmon Lake Demonstration Forest; Nicola Valley Archives Heritage Museum; Spius Creek Fish Hatchery; Valley Copper and Lornex Mine tours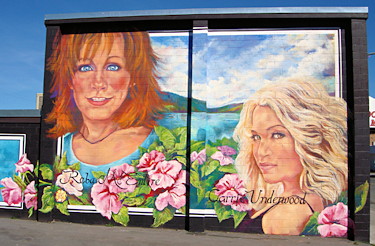 Murals of Reba McEntire & Carrie Underwood
Population: 6,253.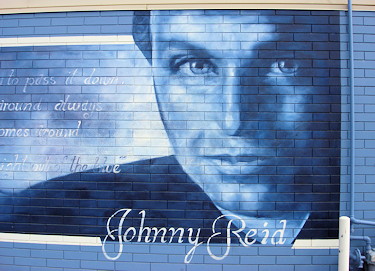 Johnny Reid mural.
Elevation: 595 meters (1,950 ft.)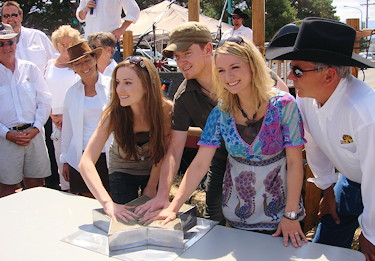 The Higgins are inducted into the Merritt Walk of Stars.
Main Industries: forestry; mining; ranching.
---
For Information:

TOURISM MERRITT
Visitor Information Centre
2202 Voght Street
Email: info@tourismmerritt.com
Web: www.tourismmerritt.com
All images courtesy of Tourism Merritt
& Pinerock Ridge Graphic Art & Design
Thompson Okanagan Tourism
2280-D Leckie Road, Kelowna, BC V1X 6G6
Phone: (250) 860-5999, Fax: (250) 860-9993
Merritt & District Chamber of Commerce
Business Service Centre
2185B Voght St.
Box 1649, Merritt, BC, V1K 1B8
Phone: (250) 378-5634
Fax: (250) 378-6561
Email: manager@merrittchamber.com
Website: www.merrittchamber.com
Open year round Monday - Friday 9am-4pm