Christina Lake
British Columbia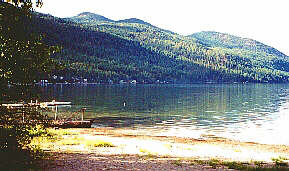 Location:
Christina Lake is located just off of Highway 3 22 km (13.6 mi) east of Grand Forks. The townsite of Christina Lake offers numerous visitor services.
A campground with all facilities and boat launch are provided.
Size
2629 ha. (6493.6 ac.)
Shoal
Data not Available
Mean Depth
33.8 m. (110.9 ft.)
Max. Depth
48.8 m. (160.1 ft.)
Game Fish
Kokanee, Rainbow Trout, Large and Smallmouth Bass
Fish Stocked
None
Angler Usage
Moderate to High
Elevation
457 m. (1499 ft.)
Ice Over
November to Late March
T.D.S.
42 mg/L

Fishing Report:
Rainbow trout and kokanee are readily caught while trolling.

Spincasting for bass in shallow bays is generally successful and mountain whitefish are best caught in the fall with a baited hook.

---




BC Adventure Network members serving this area:


If you would like to have your business listed, please Click Here.

Note: Always check your current BC Fishing regulations before you start fishing a new lake.

Be sure to visit Fishbc.com for angling information!
---
Promote your business on the BC Adventure Network.
BC's largest and most visited tourism Web site . . . more info.
Advertising Inquiries:
advertising@ibcnetwork.com
© 1995 - 2018 Interactive Broadcasting Corporation