Salmon Arm
British Columbia
Part of the BC Adventure Network. Over a million web site visitors annually !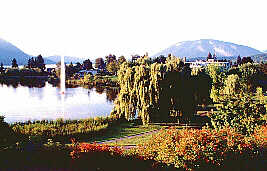 Salmon Arm, BC

Salmon Arm is located on one of the most popular resort lakes in the province.
On the Trans Canada Highway, west of Sicamous, Salmon Arm offers visitors a wide range of recreation possibilities plus providing almost every service and convenience you could want.
---
This quickly growing community of Salmon Arm, BC, is becoming popular for its climate and amenities.The pleasant summer days and the 21'C (75' F) lake temperature bring visitors to enjoy a myriad of water activities plus sample the treats from nearby orchards. Definitely a summer playground for the whole family.Winter time also brings a host of activities with their x-country ski loppet a highlight.
Access: Salmon Arm is located 106 km (64 mi.) east of Kamloops, BC, on the Trans Canada Highway, from points east you again travel on the Trans Canada. The 104 km (64 mi). from Revelstoke takes you past a wide variety of scenery from mountains to lake shores.
From the south Salmon Arm can be reached by passing through the sunny Okanagan or using the Coquihalla Highway from Vancouver. From any direction, whether by car or bus, you will enjoy the scenic trip and be pleasantly surprised with your surroundings once you reach this town on the edges of the vast Shuswap Lake.


Accommodation/Adventure Providers
If you would like to have your business listed, please
Click Here.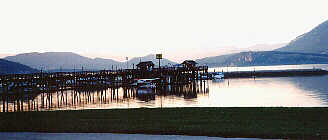 Population: 17,500
Elevation: 330 Meters (1,100ft)
Main Industry: Tourism.
Climate: Mainly hot and dry summers, with moderate to cold winters.
Recreation Facilities & Activities: 18 Hole Championship Golf Courses; Recreation Centre and Arena; Yoga Studios; Mountain Biking; Hiking Trails; Equestrian; Public Beach Access; Off-Leash Dog Park; Cross-Country Skiing; Snowmobiling.
Local Attractions: Haney Heritage Historic Village & Museum; Waterfront Nature Park; Herald Provincial Park & Margaret Falls; Sockeye Salmon Run; Roots & Blues Music Festival; Waterslides; Wine Touring; Houseboating; Water & Beach Activities.
Accommodations: Besides a number of hotels, motels, and bed & breakfasts, there are many popular resorts and campgrounds scattered along the lakeshore close to town. Herald Provincial Park, located across the lake, offers camping, swimming, and hiking.
Events:
January: Reino Keski-Salmi Loppet (International Cross Country Ski Race)

February: Shuswap International Film Festival

April to October: Farm & Craft Market (Tues & Fri)

May: Shuswap International Writer's Festival

June: Father's Day Fishing Derby, Shuswap Dragon Boat Festival

June to Aug: Wednesday on the Wharf, Twilight Market

July: Canada Day Children's Festival, Squilax Pow Wow

July & August: Haney Heritage Village Dinner Theatre

August: Salmon Arm Triathlon, Roots and Blues Festival, Demolition Derby, Classic/Antique Car Show

September: Salmon Arm Fall Fair, Harvest Celebration

October: Halloween Treat Trail, Spooktacular, Cemetery Tours, Salmon Run

November: Remembrance Day Ceremonies

December: Holiday Train
For Information:
Salmon Arm and District Chamber of Commerce & Visitor Centre
#101, 20 Hudson Avenue NE
Salmon Arm, BC V1E 4P2
Toll-Free: 1-877-725-6667
Ph: (250) 832-2230
Fax: (250) 832-8382
Shuswap Tourism
Box 978 Salmon Arm, BC V1E 4P1
Telephone 250-832-8194
Fax 250-832-3375