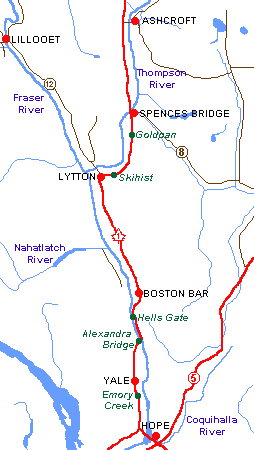 Fraser River & Thompson River Canyons
Lillooet, Ashcroft, Spences Bridge, Lytton, Boston Bar, Hells Gate, Yale & Hope
Fraser River & Thompson River Canyons
The one word that best describes this region of British Columbia, is awesome. The Coastal Mountains are rugged, and the Fraser River combined with its many tributaries, including the Thompson, rushes through a narrow passage as it makes its way to the Pacific Ocean.
The Trans Canada Highway (Highway # 1), from Hope to Spences Bridge follows the Fraser and Thompson Rivers, as it makes its way north into the interior of BC. The characteristic of the country side at the south end, is lush and green. The ground is covered with salal, devil's club and fern. The hemlock, balsam, fir, alders and maples give shade and a coolness to this area.
Between Yale and Boston Bar, there are seven tunnels to pass through. 20 km (12.4 mi) beyond Yale you cross the Fraser River going over the Alexandra Bridge. The mountains meet you at the highway, sagebrush and tumbleweed are everywhere, trees become sparse, this is the heart of the Canyon. The two railroads and the highway have been chiseled by machine through the mountains and far below you can see a brown ribbon winding along the barren cliffs, this is the Fraser. It's brown, angry and deep as it makes its way through Hell's Gate.
The Thompson River joins the Fraser River at Lytton. As you continue on the Trans Canada Highway heading north you follow the blue-green waters of the Thompson River. Here as you wind your way along, the country side is dry and barren and the only green is the irrigated fields. The sun is hot. You are in the Dry Belt region of British Columbia.
The two rivers, that help form the Fraser River and Thompson River Canyons, are world famous whitewater rafting and fishing locations. Whitewater river rafting is very popular in this BC region and you will find a number of river rafting companies and whitewater guides and outfitters in the different communities along the rivers. The Fraser River is famous for the Pacific Salmon that migrate to their birth place in the BC interior every four years. Spences Bridge on the Thompson River is known far and wide for its catch and release of steelhead.
Local Vacation Providers
| | |
| --- | --- |
| | Rocky Mountain Holidays: Rail Vacations in the Rocky Mountains & Western Canada! Rocky Mountain Holidays customize vacations that combine the romance of train travel with the magnificent scenery of Western Canada. more |