Chase
British Columbia
Part of the BC Adventure Network. Over a million web site visitors annually !

Chase, BC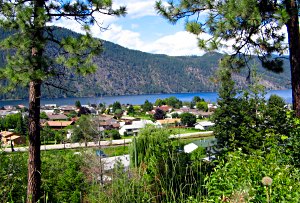 The gateway to BC's North Shuswap, Chase is a small community with a lot to offer.

Located just 56 km (34 mi) east of Kamloops on the western end of Shuswap Lake, Chase can offer the outdoor enthusiast a variety of activities.

The community of Chase, with its warm summer days, has a golf course, beautiful beaches and parks, while the nearby lakes, rivers and mountains can provide everything from hiking, camping and mountain biking to water skiing or salmon watching.




Accommodation/Adventure Providers




If you would like to have your business listed, please Click Here.

Accommodations: There are a number of private campsites as well as BC Provincial Parks: the Adams River Provincial Recreation Area; Shuswap Lake Provincial Park and Niskonlith Lake Provincial Park. There are also resort hotels/motels in Chase and in the immediate area.

Access: The nearest large community is Kamloops, BC, 56 km (34 mi.) to the west on Highway 1. Greyhound Bus Lines makes a stop at Chase, but the nearest airport is in Kamloops. From Vancouver, BC, or points north, follow Highway 1 east from Cache Creek (140 km/ 84 mi.).

Recreation Facilities & Activities: local park; swimming and picnicking beach areas; river rafting; Roderick Haig-Brown Provincial Park; boating; golf course; hiking; mountain biking; exploring.

Local Attractions: Adams River Salmon Run (fall); Squilax Pow Wow; Chase Museum; Big Horn Sheep viewing; Chase Creek Waterfall;

Population: 2,200.

Elevation: 330 meters (1,104 ft.)

Main Industries: Forestry.

Climate: Moderate.
---
For Information:
Chase Travel InfoCentre
400 Shuswap Ave., Box 592, Chase, B.C. V0E 1M0
Telephone (250) 679-8432 • Fax (250) 679-3120
Shuswap Tourism
Box 978 Salmon Arm, BC V1E 4P1
Telephone 250-832-8194
Fax 250-832-3375

Thompson Okanagan Tourism
2280-D Leckie Road, Kelowna, BC V1X 6G6
Phone: (250) 860-5999, Fax: (250) 860-9993