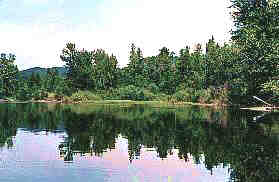 Resorts & Campsites: There is no organized campsite on this 14km long lake, however there is bed & breakfast accommodations available and several boat launches at the southwest end of lake (in Deka Lk. Subdivision). Many services are located at nearby Interlakes Corner and Sheridan Lake.

BC Adventure Network members serving this area:


If you would like to have your business listed, please Click Here.

Fishing Report: Lake trout are caught up to 10 pounds with rainbow about a pound and a half. Trolled lures can be used for both with spinning gear also effective for the rainbow. Fly fishing is effective on Deka Lake as well. Kokanee have been stocked and are providing enjoyable fishing. Although the lake slows down during hot weather it produces consistently throughout the season.


Be sure to visit Fishbc.com for angling information!

Viewscape: With high fir and spruce covered mountains in the distance, this is a wonderful scenic area.

Shoreline: The rocky shoreline is often covered with alder and poplar, with some marshy areas in the narrows. There is access to Sulphurous Lake by water.

Note: Always check your current BC Fishing regulations before you start fishing a new lake.