Barkerville, BC
Visitors can take themselves back in time by visiting the authentically reconstructed historic town of Barkerville and the nearby bustling town of Wells.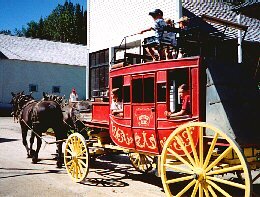 Barkerville
Barkerville, British Columbia, is located at the end of the Cariboo Gold Rush Trail, 89 km (55 mi.) east of Quesnel on Highway 26.
In 1862, Billy Barker found gold on Williams Creek, a discovery that started a rush of fortune seekers from all over the world. Between 1862 and 1870, over 10,000 people travelled the Cariboo Wagon Road, named the eighth wonder of the world, converging on the gold fields, and the boom-town called Barkerville. In its heyday, Barkerville was the largest city west of Chicago and north of San Francisco.
Along the highway to Barkerville, where stage coaches and pack horses once travelled, there are historical points of interest with such intriguing names as Mexican Hill, Robber's Roost and Devil's Canyon. Cottonwood House Historic Site feature one of the last original roadhouses along the Cariboo Wagon Road. Blessing's Grave is a lonely roadstop marking the site of an infamous murder.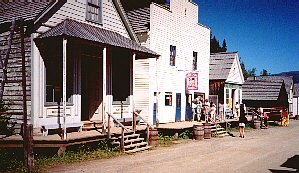 This authentically reconstructed historic city of Barkerville is one of the finest anywhere, boasting over 100 displays and "living history" programs; roar to the antics of the stage shows at the Theatre Royal, sample a treat at the bakery, quaff a glass of cool root beer at the saloon, or partake of pioneer (or modern) fare at one of the eateries or hotels along Main Street. Stop and talk to the "residents" and find out what it was like to be a blacksmith, a school teacher, seamstress or young child 100 years ago! To bring home your experiences get a photo taken in top hat or long gown and billowing hat.
| | |
| --- | --- |
| | Becker's Lodge Bowron Lake Adventures Resort: We offer affordable family vacations on beautiful Bowron Lake with canoeing, kayaking, hiking, and RELAXING The Lake View Restaurant and Chuters Blue Bar have great food, and we're "THE" outfitter for the Bowron lakes with over 150 canoes and kayaks. more |
| | |
| --- | --- |
| | Bowron Lake Canoe Rentals: Rent all the boats and supplies you need to canoe or kayak the Bowron Lakes Canoe Circuit. We have over 130 canoes and kayaks, and 25 years experience. We also offer lodging and complete canoe trip packages. more |
| | |
| --- | --- |
| | The Wells Hotel Ltd.: Enjoy simple elegance, cozy accommodation & country meals, in a restored heritage country inn near Barkerville & Bowron Lakes. Relax in the pub, read a book by the fire, or go walking, mountain biking, snowmobiling, or x-country skiing from the front door. more |


If you would like to have your business listed, please Click Here.

Local Attractions:
Cariboo Wagon Road - Mexican Hill, Robber's Roost, Devil's Canyon, Cottonwood House, Blessing's Grave, Lover's Leap

Barkerville - Barkerville Historic Town offers the visitor a chance to step back in time; attend the historic St. Saviors Church, schoolhouse lessons, courthouse trials, stagecoach rides, Theatre Royal, blacksmith demonstrations, photographer's studio.

Wells - galleries and shops, Island Mountain School of Arts, nearby Bowron Lake Provincial Park

Recreation Activities:
Canoeing Bowron Lakes, hiking trails, cross country skiing, snowmobiling, photography, wildlife viewing, bird watching, mountain biking, dog sleding and back country skiing.

Accommodations:
Wells provides motels, a hotel and bed and breakfasts accommodations and there are three provincial campgrounds within 2 km of Barkerville. There are eateries for your dining pleasure.

For more Information:
Barkerville Historic Town
P.O. Box 19 Barkerville, BC, V0K 1B0
Phone: (250) 994-3332

BC Parks, 540 Borland St.
Williams Lake, BC, V2G 1R8
Phone: (250) 398-4414

Cariboo Chilcotin Coast Tourist Association
118A North 1st Ave
Williams Lake, BC, V2G 1Y8
Telephone: (250) 392-2226
Fax: (250) 392-2838
Toll Free: 1-800-663-5885
E-Mail: cta@landwithoutlimits.com

Tourism BC Info 1-800-435-56220
---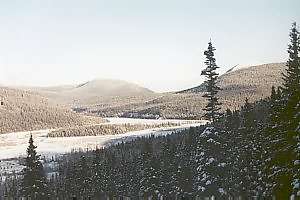 Wells
Established in the 1930's as a gold mining town, Wells, British Columbia, is located 74km (46 mi.) east of Quesnel on Highway 26 and 8 km (5 mi.) west of Barkerville. The town is named after Fred Wells who had prospected in the area for 10 years and discovered the Cariboo Gold Quartz Mine. Wells' mine introduced a new era in the history of gold-mining in the Cariboo since there had been little lode mining up to that point in time.
The town of Wells reached its maximum population of 3000 by 1940. The population is now substantially reduced but swells in the summer with the influx of summer residents and those coming for the various activities in the area or to partake in the courses offered by the Island Mountain School of Arts. The Island Mountain School of Arts features workshops in folk art, the performing arts, photography and journalism, drawing and watercolour. The gallery is open to to the public, with special sales and shows through out the year. Wells has four gallery/gift shops that are linked by a footpath.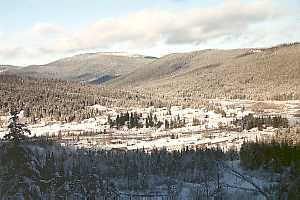 Winter and snow conditions in the Wells Barkerville make for excellent snowmobiling, cross country skiing, back country skiing and dog sleding. Every spring the town hosts the Great Canadian Hill Climb, a very difficult course, with snowmobilers from all over Western Canada participating, or just watching the spills and trills.
Summer in Wells and area means mountain biking, hiking, canoeing the Bowron Lake canoe circuit, fishing, gold panning, wildlife viewing and bird watching. Barkerville, which is nearby offers a walk back in British Columbia history, a glimpse of yesterday's Cariboo Gold Rush.
Wells is presently restoring some of the historical buildings to bring back the character of the town.