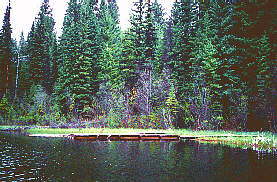 Resorts & Campsites: Elk Lake has medium open/treed BC Forest Service Campsites. RV accessible. Very rough boat launch. Small boats or canoes must be walked down a path to the lake. A small dock is located at the boat launch. Float tubes and pontoon boats are very popular on this lake.

BC Adventure Network members serving this area:


If you would like to have your business listed, please Click Here.

Fishing Report: Considered as one of the best flyfishing lakes. While Elk Lake does not contain large quantities of trout, it does contain quantities of large trout. Because of a great food supply, 6 lb rainbows are often caught. Elk is designated a fly only lake. Gas motors are also prohibited.

Elk appears to be a large shallow weed carpeted shoal, however, at the north end of the lake it does get deeper. Best fishing occurs early in the summer and also late in the falls.

Be sure to visit Fishbc.com for angling information!

Viewscape: A very pretty lake with islands. Surrounding countryside is 100% forested in predominantly Lodgepole pine and Trembling aspen, with a few Douglas fir and cedar intermixed, and birch and alder close to the shore. Elk Lake lies in low rolling hilly terrain.

Shoreline: 100% peaty black soil. Yellow pond lily and cattail are very abundent around the margin and in the shallows of the lake.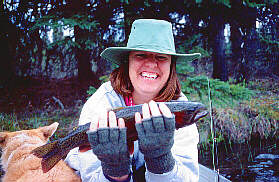 Nearby Lakes
Jackson's Hole:
Jackson's Hole. Located about 3 km (1.86 mi) before reaching Elk Lake on the south side of the McLeese Lake - Likely Road, Jackson's Hole is another excellent fly fishing only lake. Gas motors prohibited. Clear water with large shoals, this 36 ha (91 acres) lake contains large quantities of small to medium sized rainbows.
Jackson's Hole has small open site BCFS campsites. Cars, campers and small RV's can access this campsite. Before fishing, stop at a local Fly & Tackle shop to enquire about fishing conditions, because Jackson's Hole is sometimes subject to winterkill, despite it's aeration program.
Note: Always check your current BC Fishing regulations before you start fishing a new lake.