Cruising the South Coast of British Columbia


---
Sunshine Coast and Vancouver:
Boating in this region takes you along the mainland of British Columbia from Howe Sound to Desolation Sound. The Sunshine Coast, has one of the highest totals of sunshine in Canada, as the name infers. Sandy beaches, mountains, inlets and waterfalls make sailing and exploring this region fun.

Points of interest in and around Vancouver include White Rock, Boundary Bay, Crescent Beach, Tsawwassen Beach, Steveston Harbour and Cannery Channel. All offer mooring and anchorage.


---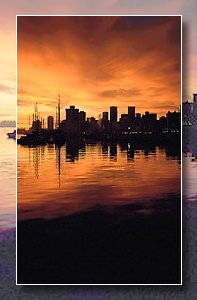 Sunset on Coal Harbour, Vancouver
---
Vancouver, on Burrard Inlet, the largest city in B.C. is also one of the most beautiful cities along the west coast. Many anchorage spots are available at both Vancouver Harbour and False Creek. Boaters who live in Vancouver are only minutes away from good sailing.

One of these boating locations is Indian Arm, which is part of Burrard Inlet. Indian Arm Marine Park includes almost the entire fjord, with anchorage facilities at Belcarra Bay, Deep Cove Government Wharf and Bedwell Bay.

Howe Sound, like Indian Arm is only minutes from downtown Vancouver and offers small boat owners hours of pleasant cruising. Within the Sound are many islands including Bowen and Gambier, while at the north end of the Sound is Squamish. Throughout Howe Sound are good anchorage sites at private marinas and government wharfs. Shelter is available at Snug Cove, Deep Bay, Hood Point, Halkett Bay, Anvil Island, and Squamish. There are two marine parks in Howe Sound, they are Porteau Cove and Plumper Cove, both have protected anchorage sites. On leaving Howe Sound and heading for the Sunshine Coast the town of Gibsons offers good anchorage and shopping facilities.


---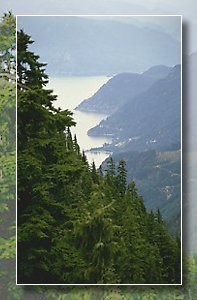 Mists over Howe Sound
---
From Howe Sound to Pender Harbour there are only a couple of anchorage spots, they are at Halfmoon Bay, Buccaneer Bay, Smuggler Cove and Secret Cove. You have now left the Strait of Georgia and entered the Malaspina Strait. Once at Pender Harbour, there are marinas and good anchorage, stores, repair shops and restaurants. Pender Harbour is a stop over for boats heading north, south or making their way up Jervis Inlet.

To enter Sechelt Inlet, you must run Sechelt Rapids (Skookumchuck Rapids), do so at near or slack water. Once in Sechelt Inlet, enjoy the many places to explore with anchorage at Egmont, Storm Bay and Tzoonie Narrows.

Jervis Inlet is a very picturesque cruise with few anchorage spots. Thunder Bay offers sheltered anchorage along the western shore and can provide the launching for your trip to Princess Louisa and Chatterbox Falls. Find anchorage at Harmony Islands, Killam Bay, while McMurray Bay offers temporary shelter close to the beach. To get into Princess Louisa Inlet you must make it through Malibu Rapids. Run these rapids at or near slack water. On reaching the inlet, the scenery is awesome, surrounded by high mountains that drop right into the calm azure blue water. Princess Louisa Provincial Marine Park offers a long dock that will hold many boats, or anchor just below Chatterbox Falls.

Continuing north along the coast, cruising the Malaspina Strait, there are a couple of excellent stops featuring protected anchorage. Grief Point marks the northern end of Malaspina Strait, which can be rough. Westview is the cruise boaters moorage for Powell River, which is a couple of miles away, but definitely worth the hike. The town of Lund is the last town before Desolation Sound, and an excellent place to stock up on needed food supplies, water, marine supplies and fuel. The protected public marina offers good moorage.

Desolation Sound and Bute Inlet:

Desolation Sound is the largest marine park in southern British Columbia. The sound is calm with an abundance of wildlife and has the warmest waters along the coast. This is a fun area to explore with old logging, farming and aboriginals sites. The several islands not only offer good anchorage sites, but add to your cruise experience. Captain Vancouver in 1792 named it Desolation Sound, because of the rugged appearance, the silence and the fog. Today, it is one of the main boating spots for city dwellers, wanting to get away from it all. The most popular destinations within Desolation Sound are Grace Harbour, Tenedos Bay and Prideaux Haven. Grace Harbour has anchorage along the shore, while Tenedos Bay offers protected anchorage in many coves. Then there is Prideaux Haven, with unsurpassed scenery, old historic sites and settlements, with places that offer protection when anchored. One can spend weeks boating in this area, making your way along Cortes Island, East and West Redonda Islands. Cruise Pendrell Sound, with its warm waters and large oyster culture farm. Anchorage can be found at the head of the Sound and on the western shore about three-quarters of the way up the Sound.

Refuge Cove, on West Redonda Island, is a well-known meeting place for Desolation Sound travellers, with a large anchorage area, a fuel dock, shops and store. It is very busy during the summer and you might have to wait your turn to find a docking place. Squirrel Cove, on Cortes Island, is landlocked and protected. Replenish supplies at the store above the dock. Another spot, which has good anchorage and a fun place to visit, is Von Donop Inlet and Marine Park on Cortes.
---