Mid-July Sedge Dry Fly Patterns
for BC Lakes
article & flies by Fred Curtis
---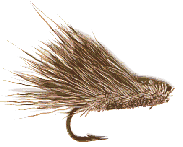 Here at the lodge, our elevation from sea level, plays an important role in the timing of particular insect hatches. Its effects on the emergence of these food sources is one factor that most fisherman tend to forget when they are making plans for their trips to certain lakes or holiday destinations.
This is where a phone call can provide valuable information to fisherman: "Yes, caddis nymphs are on the move!" These are probably the most welcomed words of a dry fly fisherman's summer, for everyone dreams of arriving at the lodge just in time for the 'HATCH'. The trout too have been waiting patiently for these gourmet insects to arrive, starting with the smaller cinnamon sedge, and then the larger traveling sedge.

A majority of dry fly anglers prefer to use flies like the Stimulator or the Elk Hair Caddis, but I have found a pattern that performs, stays afloat, and is highly visible to the trout and the fisherman. In these days, my eyesight is moving right along with my age, and any visible help is a blessing.

This pattern is tied with dyed deer hair, or you could make it with light natural hair and color it with felt markers. All you do is Stack and Fold the hair on the shank of the hook, then give it a hair cut and grease it up. It lasts forever, even when a dozen or more trout have chewed on it. I keep about four sizes in my box, six color shades and a note read first (Wait! Strike after the fish turns head down).

Tight lines and good times.
---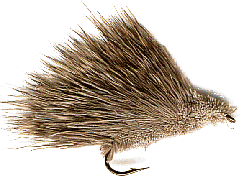 The Simple Sedge
Hooks - Mustad - 94831-sizes 6-8-10-12
Thread - Black or color of hair
Body - Dyed deer hair
Fred's Articles...