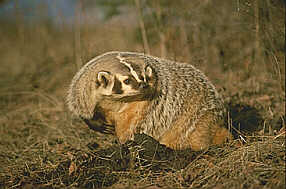 Badger
Taxidea taxus
---
Description - This stout, shaggy animal is the largest of the weasel family with only the wolverine exceeding it's size. Its coat is a grizzled grey to brown with a white stripe from upturned snout to shoulder. The tail is short, bushy and yellowish; the cheeks white with dark patches; the ears small and the feet dark with large foreclaws. The male is larger than the female weighing usually 7-25 pounds.
Distribution - The badger prefers open plains, farmlands and the edges of woods. They range throughout southeast British Columbia and a studfy in 1990 concluded that only 300-1000 badgers likely occurred.
Biology - 2-5 blind young are born in March or April. They feed on squirrels, pocket gophers, rats and mice which they usually capture by digging out their burrows. They also eat birds, invertebrates, and carrion and are fond of rattlesnake; they are apparently unharmed by the venom unless the snake strikes its nose. A very ferocious animal, the badger has few enemies. Its hair is used to make the best quality paintbrushes, and the coarse bristles were formerly used in shaving brushes. Forest succession and encroachment into grasslands is reducing the habitat of the badger, an animal vital in controlling rodent populations.
Tracks - These pigeon-toed creatures have powerful feet and long claws on the front paws which are prominent in most prints. The foot is made up of a series of small pads. During the winter the body of the badger drags on the snow leaving a trough of sorts.
Straddle: 10 - 18 cm (4 - 7 in)
Stride: 15 - 30 cm (6 - 12 in)
Track: Front - 6 cm (2.4 in) long / 5 cm (2 in) wide
Track: Rear - 5 cm (2 in) long / 5 cm (2 in) wide