Hiking the BC Rockies - Columbia Valley


Travel info for the BC Rockies. Trails in this area.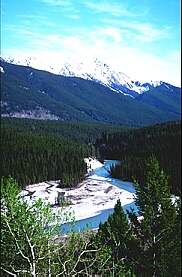 For beauty and splendour that's incomparable the Rockies has it all. This region runs from Revelstoke east to the Alberta border and south to the US border and down the middle is the Rocky Mountain Trench. This deep valley separates the Rockies from the Purcell Range to the west, and making it's winding way through BC and down into the United States, is the Columbia River. This region is rich in sheer natural beauty, with alpine lakes, miles of mountain meadows, rocky peaks and hot springs. Adventures are limitless in the Rockies. Mountain climb, raft, fish, ski and hike, or just plain relax in one of the hot springs, drinking in the beauty of the mountains.

This region is world famous for it's wildlife. There are Rocky Mountain grizzlies in the Akamina-Kishinena area, where they are protected. While the Premier Ridge, has been designated by the United Nations as the place of the most valuable ungulate populations outside the Africa's Serengeti Plains. Weather conditions can vary from place to place in the Rockies, summer are usually hot and dry, the higher elevation cool quickly. Dress in layers, have rain gear handy, carry spare water, plenty of sun screen and bug repellent.


Elk Lakes Provincial Park with alpine lake scenery offer day hikes and backpacking. From Elkford on Highway # 43, follow the Westside Road to the Elk River crossing. Cross the river and follow the Kananaskis Power line road to northeast park headquarters. The road is rough, 4 by 4's are the recommended vehicles, there are no facilities as this is a wilderness area so be prepared. The mountains and glaciers mean good alpine hiking, but be ready for quick weather changes. Before starting your trip into this region, check at Elkford for current conditions or contact the BC Parks.



St. Mary's Alpine Provincial Park:

St. Mary's Alpine Provincial Park high in the Purcell Mountains is breath taking alpine splendour in a totally wilderness setting. There are no designated campsites, and no trails, this is remote back packing country. Hikers should be experienced and self reliant, definitely skilled with map reading and know wilderness survival.

Access to this area is by logging roads, a four-wheel drive is necessary. From Marysville take the St. Mary's Lake gravel road to St. Mary's Provincial Park and continue on for another 45 km (28 mi.) north of the park and eventually you will reach this very remote area.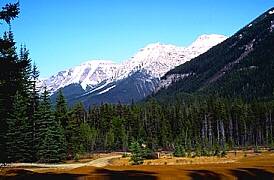 Kootenay National Park, that borders both Yoho and Banff National Parks, has more than 200 km (125 mi.) of trails within it's boundaries. The side by side position of mountain ranges feature wild open valley that are super for hiking. Plant life varies from bunch grass to white rhododendrons, there are more than 150 species of birds in this area and a wide range of animals that include bears, mule deer and bighorn sheep. One of the many hikes in Kootenay is the Rockwall Highline Trail, this is a 3 to 4 day backpack journey along the base of the Kootenay Wall, which is a 500 metre (1640 foot) escarpment. Reservations for wilderness campsites should be made well in advance and can be done by writing. Overnight trips in the Kootenay require a park-use permit and a user fee, these can be obtained up to 24 hours in advance at park information centres. Camp only is designated areas.



Mount Assiniboine Park to your liking. No part of this park lies below 1500 metres (4900 feet) and it has 60 km (38 mi.) of trails that are used all year round, by hikers in the summer and skiers in the winter. The only other way into Mount Assiniboine Park is by helicopter. The closest road access is Highway # 93 from Kootenay National Park and Highway # 1 from Banff National Park. One of the most popular hikes into the park is from Sunshine Valley near Banff, Alberta. This trail starts from the Sunshine gondola to Lake Magog, by Quartzridge, Citadel Pass, Golden Valley and finally Valley of the Rocks. This is a good 7 to 8 hour hike that's 27 km (17 mi.) long. There are other hiking spots that are shorter, check them all out.



Bugaboo Glacier Provincial Park:

The Bugaboos, a favourite with mountain climbers and heli skiers is also an excellent place to hike. Bugaboo Glacier Provincial Park and Alpine Recreation Area, is west of Radium Hot Springs in the Purcell Mountains. This is wilderness that offers solitude, masses of spectacular peaks, gorgeous blue lakes and alpine meadows.You can gain access to the Bugaboos by way of a good gravel road that runs from Brisco, north of Radium Hot Springs to the public parking lot. From here it's a steep 5 km. (3 mi.) hike to Boulder Camp and the Conrad Kain Hut. The user fee accommodations here are limited to 50 people, so bring your own wilderness camping gear. There are other trails within the park, for complete hiking information contact BC Parks.

Golden, on the Trans Canada Highway, is Yoho National Park with glacial lakes, glaciers, waterfalls and mountains. The 400 km. (252 mi.) of trails makes this a excellent place for the hiker. Along the hiking trails are waterfalls, some 206 species of birds, fossils, abundant wildlife and beautiful mountain lakes. Reservations for back country campsites can be made at Field, the park's headquarters and information centre.



For extreme wilderness hiking, hike in or fly into the Hamber Provincial Park, located north of Glacier National Park and bordering Alberta's Jasper National Park. Not only is it the wildest park in B.C. it is also the most inaccessible. You can hike in, by way of a very difficult 23 km. (14 mi.) trek from Sunwapta Falls in Jasper National Park . To hike the Sunwapta Canyon to Fortess Lake Trail is a good 8 hours one way and is only recommended to experienced hikers. Once you reach Fortress Lake there is limited hiking but the fishing is great.

Good gravel roads off Highway 93/95 south of Canal Flats will take you to three different parks that truly represent the best the Rockies has to offer. The parks are Whiteswan Lake, Top of the World and Premier Lake, where the alpine regions are extraordinary, the fishing is great and the wildlife and flowers abound. Visiting these three parks means back-country camping and hiking at it's finest.