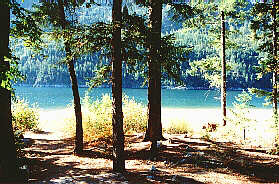 Fishing Report:

Large Gerrard rainbow trout are resident in Lower Arrow Lake where fishing is the best in the fall months. Polar bears and bucktail flies trolled at three mph or more are used with much success. When the water is calmer use Apex or Lyman plugs.

During the summer when the water of Lower Arrow Lake is warmer use a flasher and hootchie and a dodger with a fly and leader at a depth of 30 m (98 ft) to 70 m (230 ft).

During the winter use Bill Normans or Pradco Water Dogs at a slow troll for best results. For bull trout in the winter and spring use chrome J Plugs, Mac's Squids trolled near the surface or jig with bucktail jigs.

The Upper Arrow Lake provides good fishery for ling cod.

BC Adventure Network members serving this area:


If you would like to have your business listed, please Click Here.

Note: Always check your current BC Fishing regulations before you start fishing a new lake.

Be sure to visit Fishbc.com for angling information!