Jewel Lake
British Columbia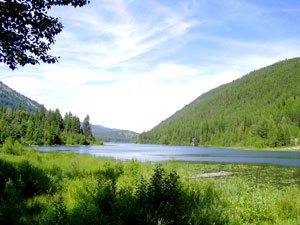 Photo Courtesy of Jewel Lake Property
(Christina Lake Vacation Rentals)
Location:
Jewel Lake is approximately 23 km (14.3 mi) from the community of Greenwood in the Boundary Kootenays Region of British Columbia, Canada, via 13 km (8 mi) of paved road and 10 km (6 mi) of gravel road. Camping areas and a resort are found on Jewel Lake.
Size
74.5 ha. (184 ac.)
Shoal
Data not Available
Mean Depth
10.9 m. (35.8 ft.)
Max. Depth
23.8 m. (78.1 ft.)
Game Fish
Rainbow and Brook Trout
Fish Stocked
Rainbow and Brook Trout
Angler Usage
Moderate to High
Elevation
1158 m. (3798.2 ft.)
Ice Over
November to April
T.D.S.
110 mg/L

Photo Courtesy of Jewel Lake Property
(Christina Lake Vacation Rentals)

BC Adventure Network members serving this area:


If you would like to have your business listed, please Click Here.

---

Fishing Report:
Jewel Lake provides good winter fishery for Brook trout and there is a good balance between size and catch success.

The rainbow trout in Jewel Lake are often large and readily caught using either fly or trolling methods.

Note: Always check your current BC Fishing regulations before you start fishing a new lake.

Be sure to visit Fishbc.com for angling information!
---
Promote your business on the BC Adventure Network.
BC's largest and most visited tourism Web site . . . more info.
Advertising Inquiries:
advertising@ibcnetwork.com
© 1995 - 2018 Interactive Broadcasting Corporation