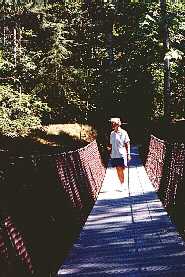 Horne Lake Caves Provincial Park is a land area of 123 hectares protecting a small portion of the Qualicum River and the Horne Lake Caves. The caves take up 75 hectares, while the newest addition of 48 hectares preserves the river and surrounding area.
---
Horne Lake is not part of the provincial park but attracts hundreds of visitors with excellent fishing opportunities and water fun activities.
Horne Lake provides fishing year round for cutthroat, rainbow trout, steelhead and kokanee, but late spring and fall provide the best fishing. Because of the winds off Mount Mark the water can become uninviting for small boats, so beware of weather conditions. The Qualicum River is famous for its good salmon fishing. Near the bridge there is access to the river where small boats can be launched from the rough shoreline. A dam and a sluice gate control water volume from Horne Lake into the river, this maintains protection from flood and drought and increases the survival of fish fry.
LOCATION
This interesting park is located, about 60km (37mi) north of Nanaimo and 12 km (7mi) off the Island Highway (Highway #19). Turn west from Highway 19 at Horne Lake Road and follow the signs to Horne Lake Caves.

Park Facilities & Activities

There are no camping facilities at Horne Lake Caves Provincial Park, but there is a private campsite with a good boat launch at the west-end of Horne Lake.

Fishing - Enjoy fishing for cutthroat and rainbow trout, steelhead and kokanee.

Cave Exploration - Horne Lake Main and Lower Caves are open for self-guided tours but the Riverbend Cave (that is grated for protection) can only be explored by reservation on guided tours. The Main Cave offers about 130m (450ft) of passages that vary from large chambers to narrow crawl ways. The Lower Cave is much small with approximately 60m (200ft) of passages and the largest of the caves, Riverbend Cave, offers 385m (1260ft) of reserved guided tours.

If you would like to have your business listed, please Click Here.
---
British Columbia Adventure Network © 1995 - Interactive Broadcasting Corporation