Sidney, BC
The town of Sidney, BC, on Vancouver Island, was developed as a farming settlement when the Hudson's Bay Company offered 100 acre parcels of land for a dollar an acre in 1858. In 1891, the Brethour family donated 202 ha (500 acres) to be registered as the official Town.
---
Today, Sidney offers the charm and character of a seaside town complete with a wonderful variety of shops, museums and interesting outdoor activities.

Water activities are particularly popular, with visitors trying crabbing, shrimping and scuba-diving.

Another popular pastime is to go "island hopping" on the BC Ferries to the Gulf Islands or take a Washington State Ferry to cruise the San Juan Islands in US waters.

Nearby Sidney Spit Marine Park offers hiking trails along the beach, camping, picnicking and boat launch facilities.

Whether it is exploring Sidney's past at the Historical Artifacts Society site, browsing through the shops in town or taking advantage of the recreational opportunities the surrounding area provides, Sydney has something to appeal to every visitor.


Accommodation/Adventure Providers




If you would like to have your business listed, please Click Here.
---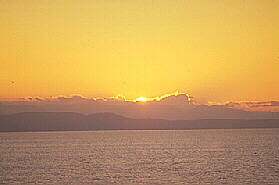 Population: 10,082.
Elevation: 13 metres (43 ft.)
Access: Sidney is 25 km (16 mi.) north of Victoria, on Vancouver Island, on Highway 17. It is the terminus of the Washington State Anacortes and San Juan Islands Ferry. The airport is 3 km (2 mi.) east of Sidney. The area is also serviced by local and national bus lines
Recreation Facilities & Activies: golf courses, crabbing, beachcombing, camping, hiking, biking, fishing.
Local Attractions: Aviation Museum, Butchart Gardens, Mineral World, Experimental Farm and Research Station, Institute of Ocean Sciences, Sidney Marine Mammal and Historical Museum, Victoria Butterfly Gardens, Sidney Spit Marine Park, Historical Artifacts Society site in Central Saanich.
July - Sidney Days
August - Gigantic Picnic
September - Jazz Festival
Accommodations: Visitors to the Sidney area will enjoy a variety of tourist services and lodging. Accommodations range from hotels and motels, many of them directly on the ocean side, to nearby campsites at McDonald Provincial Park.
For Information:
Saanich Peninsula Travel InfoCentre
10382 Patricia Bay Highway, Box 2014,Sidney, BC, V8L 3S3
Telephone (250) 656-0525 • Fax (250) 656-7102