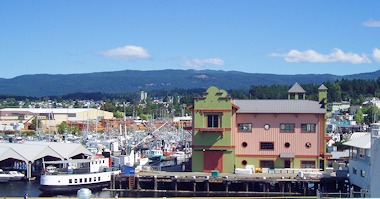 Port Alberni Harbour. Photo: Alberni Valley Chamber of Commerce
Port Alberni, BC
Port Alberni and the pastoral Alberni Valley, have become gateways to the West Coast of Vancouver Island. With the increased popularity of Pacific Rim National Park, Barkley and Clayoquot Sounds, and the incredible sportfishing available, more and more visitors are using their vacations in Port Alberni take day trips to a variety of West Coast locations.
---
The Pacific Ocean provides a great many recreational opportunities. Harbour cruises are one of the popular pastimes in the city as is sightseeing and browsing through gift shops and galleries. Known as the "Salmon Capital of the World", Port Alberni hosts the annual "Salmon Festival" which is extremely popular as is year round fishing - not only ocean fishing but fishing in one of the many freshwater lakes in the area. For the visitor interested in fish, a visit to the fish hatchery on the Stamp River or the fish ladders in the Stamp Falls Provincial Campsite would prove fascinating.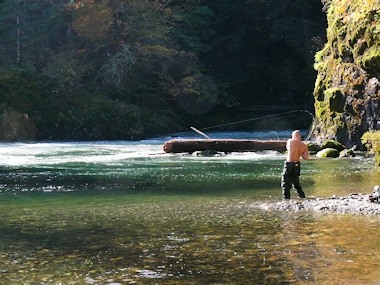 Sport Fishing on the Stamp River. Photo: Alberni Valley Chamber of Commerce
Other water pursuits are swimming, boating and windsurfing. For those who like to stay dry, hiking, heli-tours, camping and eco-tours are available.

Accommodation/Adventure Providers
| | |
| --- | --- |
| | Fresh Adventures Wilderness Tours: Guided wilderness tours in BC and Alberta. Experience the highlights of Vancouver Island and the Canadian Rocky Mountains in a small group with a professional guide. more |


If you would like to have your business listed, please Click Here.
---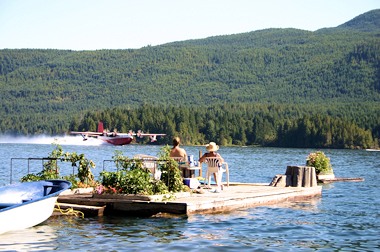 Martin Mars Water Bomber, Sproat Lake. Photo: Alberni Valley Chamber of Commerce
Population: 18,696.
Access: Port Alberni, BC, is 50 km (31 mi.) west of Parksville or 121 km (121 mi.) northwest of Victoria on Vancouver Island's Highway 4. The area is also served by local airlines and a couple of bus lines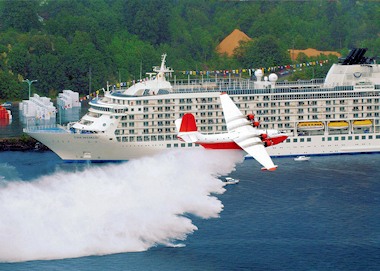 Martin Mars waterbomber dropping beside the cruise ship "The World"
Photo: Alberni Valley Chamber of Commerce
Recreation Facilities & Activies: swimming, fishing, camping, gliding, bear and salmon viewing, golfing, harbour tours, heli-tours, back-country hiking, windsurfing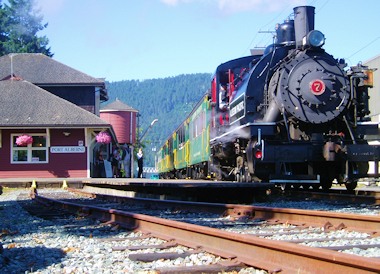 Alberni Pacific Steam Railway. Photo: Alberni Valley Chamber of Commerce
Local Attractions: Alberni Harbour Quay, Alberni Valley Historic Museum, Cathedral Grove Historic Forest, Boat Trips, water bombers, McLean's Mill Historic Site, mill or forest tours, Fish hatchery, Art Centre, Sproat Lake Petroglyphs, Stamp Falls Fish Ladders, Alberni Pacific Steam Railway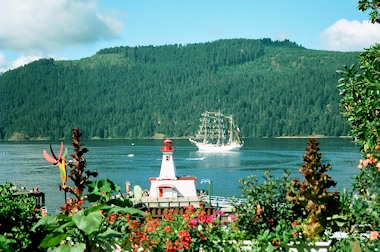 Tall Ships Festival in Port Alberni Harbour. Photo: Alberni Valley Chamber of Commerce
June - Golden Oldies Car Show
July - golf tournament
August - "Thunder in the Valley" races and car show
September - Salmon Festival, Alberni District Fall Fair and the Toy Run
October - Oktoberfest
Accommodations: Port Alberni provides a wide range of visitor services and lodging. Visitors can choose accommodations at a variety of hotels, motels, RV parks or campsites.
For Information:
Alberni Valley Chamber of Commerce
2533 Port Alberni Highway
Port Alberni, BC, V9Y 8P2
Telephone (250) 724-6535 • Fax (250) 724-6560