Accommodation/Adventure Providers




If you would like to have your business listed, please Click Here.
Nootka Island

Friendly Cove
Photo courtesy of Ann Fiddick
Wild, rugged and majestic are just a few words to describe Nootka Sound and Nootka Island off the West Coast of Vancouver Island. Often referred to the birthplace of British Columbia. Weather can be unpredictable and only fit experienced hikers should hike the area or go with an experienced guide. It is very important to be well prepared. Approximate total hiking time is 25 hours. Approximate distance is 35 km. (22mi.).
To learn more about hiking in the area be sure to read:
Hiking Nootka Island - by Brian Gunn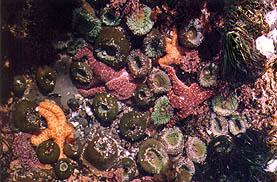 Pool south of Calvin Creek.
Photo courtesy of Eric Scott
Nootka Sound

Paddle along Nootka Sound either in canoe or kayak. Along the trip visit Crawfish Falls where Calvin Creek enters the Pacific Ocean. Admire the variety of inter-tidal life at Bajo Point. Then continue towards Yuquot (Friendly Cove). Again being well prepared is very important. While discovering Nootka Sound stop and visit many of the historic sites around the island. Wolves, sea otters, sea lions, black bears, cougars, and bald eagles can be spotted and viewed along Nootka Sound and Nootka Island.
To learn more about kayaking and canoeing in the area be sure to read:
Ocean Kayaking and Canoeing Nootka Sound - by Brian Gunn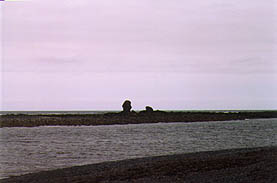 Bajo Point
Photo courtesy of Eric Scott