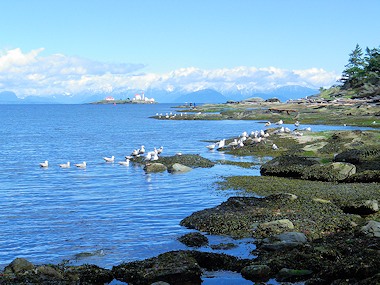 Olebar Point, Entrance Island Lighthouse. Photo Carol Ramsay
Gabriola Island
BC Gulf Islands
Gabriola is the most northerly of the Southern Gulf Islands and lies in the Strait of Georgia between Vancouver Island and mainland British Columbia. It is one of the most accessible in the Gulf Islands with ferry service running daily, 16 times each way, a 5km/3mi, 20-minute ferry ride from downtown Nanaimo.
Kidney-shaped Gabriola is about 14km/9mi by about 4km/3mi. Its sandstone geology studs the coast with dramatic rock formations. The topography varies from flat sandy beaches to forested hills rising to 160m/525ft in the island's centre. Glaciations and erosion on the island's sandstone and shale are responsible for the dramatic cliffs, points, bays and sandstone formations.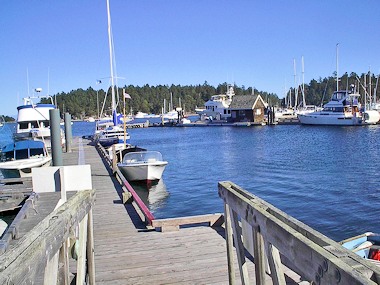 Silva Bay Marina. Photo Carol Ramsay

The landscape is a mix of beaches, forest, farms, residential and recreational areas. The island has been both mined and logged, but stands of old growth and lush second-growth forests survive. Douglas fir, red cedar, western hemlock, evergreen arbutus and the iconic Gulf Island Garry oak make choice canopies for hikers and bikers.

Today's Gabriola strikes visitors as beautiful, tranquil and easygoing. And it is. People say it's so quiet sometimes, you can hear a bird's wings in motion.

Historical Background
The earliest inhabitants of Gabriola Island were the Snuneymuxw First Nation, a Coast Salish people who arrived to hunt and fish an estimated 5,000 years ago. More than 50 petroglyphs carved by this ancient people in cliffs and rocks can still be seen today. Next came the Spanish, looking for gold. They left behind names from Descanso Bay to Malaspina Inlet. Scots, Irish and English followed. Settlers and farmers stayed, farmed and cut timber for Nanaimo. The islands history can be explored in depth at the Gabriola Museum. Millstone quarrying, brick manufacturing, logging and shipbuilding all play a part in Gabriola's history.

Accommodation/Adventure Providers




If you would like to have your business listed, please Click Here.
---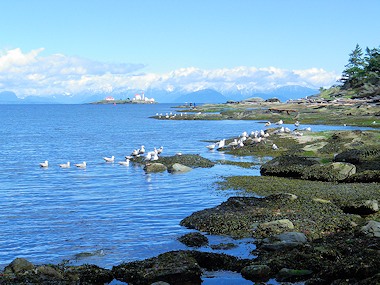 Silva Bay Kayaking Adventures offers, adventures, courses and trips for children.
Recreation
You can swim, hike, bicycle, rent a scooter, go fishing, diving, sailing, kayaking or even rent a paddleboard. Or visit a working alpaca farm, great for children of all ages. Take a yoga, pilates, ballet or dance class or play some tennis. We have a ball field and The Gabriola Recreation Society has loads of programs. The Gym at Twin Beaches can even offer a personal trainer!
Cultural/Arts/Festivals
The island swarms with painters, sculptors, photographers and glass artists, not to mention musicians, dancers, actors and writers. Gabriola's deeply embedded arts community beckons travellers to shop the art galleries and private studios, take in a play or festival and unwind body and soul.

So it's no surprise that an island celebrated for its arts community should get around to theatre. At the Gabriola Theatre Festival in August, look for a theatrical range from comedy and satire to drama and fantasy. Supporting events include StreetArt, with 50 Gabriola artists present to display and discuss their art.

Gabriola's seminal event is the Thanksgiving Weekend Studio Tour. It runs through the long weekend and involves about 100 island artists. A brochure guides visitors to more than 40 studios. Artists display masterworks in clay and metal sculpture, jewellery, acrylics, batiks, oils and water colors, photography and stained glass.

For personal and professional development, The Haven offers programs that will have you leaving with skills to be fully alive, have healthy relationships and communicate effectively. Or, partake of any of their innovative spa therapies including: Massage Therapy, Cranio-Sacral Therapy, Chi Nei Tsang, Reflexology, Structural Integration, Jin Shin Do Acupressure .Reiki, Lomilomi Hawaiian Bodywork, Four-handed Lomilomi Massage, or Transformational Movement Therapy.
---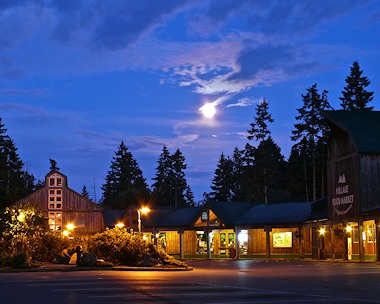 Folklife Village at Night. Photo Bill Pope
Accommodation
Gabriola Island has no luxury hotels, but does have a range of accommodations including a resort, inn, B&Bs, vacation rentals, and campgrounds. Since there's no downtown, they're scattered around the island and some are just minutes from the ferry.
Located near the ferry terminal, Descanso Bay Regional Park has campsites with oceanfront views. For those who like a few more amenities, campsites are also available at Pages' Resort & Marina near Silva Bay.

Transportation
Bring your own! We don't have public transit but we do have a taxi service. Well, one taxi anyway… so you might have to share. You get to Gabriola either by BC Ferry or Tofino Air, or your own boat. It is one of the most accessible in the Gulf Islands with ferry service running daily, 16 times each way, a 5km/3mi, 20-minute ferry ride from downtown Nanaimo. Tofino Air flies directly to Silva Bay from Richmond near Vancouver.

Population
Gabriola Island is home to around 4,200 people: double that in the summer. The average age of a Gabriolan is about 52.9. Our residents are well educated with 66% having schooling beyond grade twelve.

Climate & Weather
Gabriolans enjoy a mild temperate climate. Winters are cool and moist, summers warm and dry. The island averages 138 rainy days per year, largely between October and March. During winter, occasional dustings of snow contribute to the picturesque beauty of the island. Average temperatures in January range between 0.8°C/33°F and 6.6°C/44°F, while in July the range is between 11°C/53°F and 22°C/72°F. As with any island climate, temperatures drop near the sea, so the layered look is always fashionable.
Major Community Events
There are just so many and include: The Concert on the Green, Thanksgiving Studio Tours, Street Art Festival, Gabriola Theatre Festival, Salmon BBQ, Gabriola Island Home and Garden Tour, Silva Bay Salmon Derby, The Brickyard Beast 10K, and numerous Farmer's markets and Craft fairs.
---
Contact Info
The Gabriola Island Chamber of Commerce/Visitor Centre can be reached at 250 247 9332 or at www.gabriolaisland.org.
The Visitor Centre is open daily from 10 am to 6 pm in July and August with reduced hours during the rest of the year. Check their website for details. Their brochure, "GoGabriola" can also be picked up at most all Visitors Centres in BC, at the Gabriola ferry or at many locations on Gabriola.