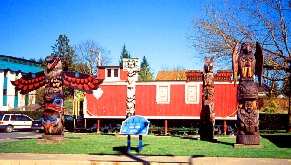 Duncan, BC
A whistle stop at William Duncan's farm during the 1880's, the "City of Totems" is a major business centre for the farming and forestry industries of the Cowichan Valley.

When you visit Duncan, you can't help but notice the outstanding collection of totem poles that line city streets. There is a self-guided walk through the town to let the visitor view all the 41 poles. Other examples of Northwest Coast Indian culture is available at the interpretive centre where one can watch or join demonstrations of carving, weaving, beadwork or the world famous Cowichan sweaters.

The birdwatcher and naturalist will get an outstanding view of water-oriented wildfowl and the Somenos Bird Sanctuary just north of town.

The lakes and rivers surrounding Duncan offer good freshwater fishing, canoeing and boating, while the surrounding countryside is a haven for hikers, bikers, photographers and sightseers.




Accommodation/Adventure Providers




If you would like to have your business listed, please Click Here.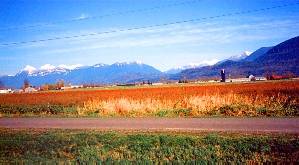 Population: 4,735.
Main Industries: fishing, farming, forestry, and tourism.
Access: Duncan is 60 km (37 mi.) north of Victoria on Highway 1. The area is also served by airlines, bus and rail.
Recreation Facilities & Activies: golf courses, fishing, and hiking.
Local Attractions: BC Forest Museum, City of Totems, Cowichan Bay Maritime Centre, Duncan Station Museum, Native Heritage Centre, World's Largest Hockey Stick, Somenos Bird Sanctuary, Demonstration Forest.
July - Summer Festival, Folk Festival
September - Cowichan Exhibition
Accommodations: There are a variety of accommodations in Duncan and area; from fine motel and hotels to bed and breakfast establishments and RV parks and campsites.
For Information:
Duncan-Cowichan Travel InfoCentre
381 Trans Canada Highway, Duncan, BC V9L 3R5
Telephone (250) 746-4636 • Fax (250) 746-8222